… Or Having Your Midichlorian Cake and Trying to Eat it too
There is a quote from Star Wars, wherein Luke Skywalker asks Yoda if the Dark Side is stronger. Yoda answers, "No no no. But quicker, easier, more seductive."
The principle is that Dark Siders are guided by passion, that they harness it and utilize it to make them strong, powerful and aggressive. To my mind, that makes them stronger, at least physically.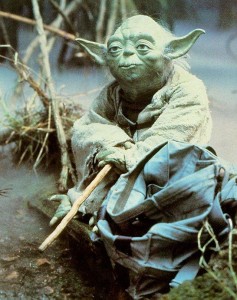 Maybe it would've been the wrong answer to give a young, impressionable Skywalker but I think Yoda should have acknowledged that the Dark Side is often stronger physically. Luke seems to fight better and stronger when he uses his fear and hatred, as we see in Return of the Jedi. His father, as a young Jedi Anakin, fought better (and more ruthlessly) when using his anger and pain. Even a young Obi Wan fights strongest against Darth Maul when he gets aggressive after the death of Qui-Gon Jinn.
But at the same time, that passion burns quickly and dies even more quickly. Dark Siders are more vulnerable, more susceptible to burnout and the negative vagaries of their passsions. Luke is at his most calm, his most principled when he lets go of his fear and anger after severing his father's hand. The Dark Side is indeed more powerful when harnessed but because of its reliance on passion, it isn't the dominant long-term strategy.