Perhaps more subtle insidious than colorism, Alice Walker's term for discrimination based on gradations of skin color, is the idea of favoring certain facial features over others. Colorism is easy to spot. Think of the most popular black or south asian film actors and actresses and you'll see it. Look at the covers of Femina or any other South Asian lifestyle publication and you'll know this to be true.
What's harder to spot is if/whether certain features tend to be favored over others. Ta Nahisi Coates' post about the outcry regarding Zoe Saldana's casting as the singer Nina Simone raises both issues.
Ms. Saldana's talent isn't in question but apparently Ms. Simone's skin tone and features are important to the telling of her story.
"My mother was raised at a time when she was told her nose was too wide, her skin was too dark," Ms. Kelly said in an interview. [Emphasis mine]
I've had friends tell me they weren't attracted to black people or (east) Asians or American whites, etc. These are folks who aren't ostensibly racist. Some might say that Tyra Banks is hot. She's relatively dark-skinned but look at her face. I don't think anyone would accuse Ms. Banks of having a wide nose or face.
Rounded face, oval face, flatter face, longer face. Thin lips, fuller lips. Small nose, larger nose, hook nose. Epicanthic fold size. Thin eyebrows, thick eyebrows. I'm not claiming not to have any traits that attract me more than others. But I'm a product of my environment. We internalize certain things that are fed to us by the culture at large. What we may want to think of as a natural prejudice-free preference has probably been written for us by the taste-makers.
In the case of Zoe Saldana, damn I think she's hot. But there's no escaping that her features look nothing like Ms. Simone's. And by reinforcing a certain softness, a certain malleability, we discount the beauty of those who have different ethnic traits. Check out the facial gradations in the following chart. (Click to embiggen).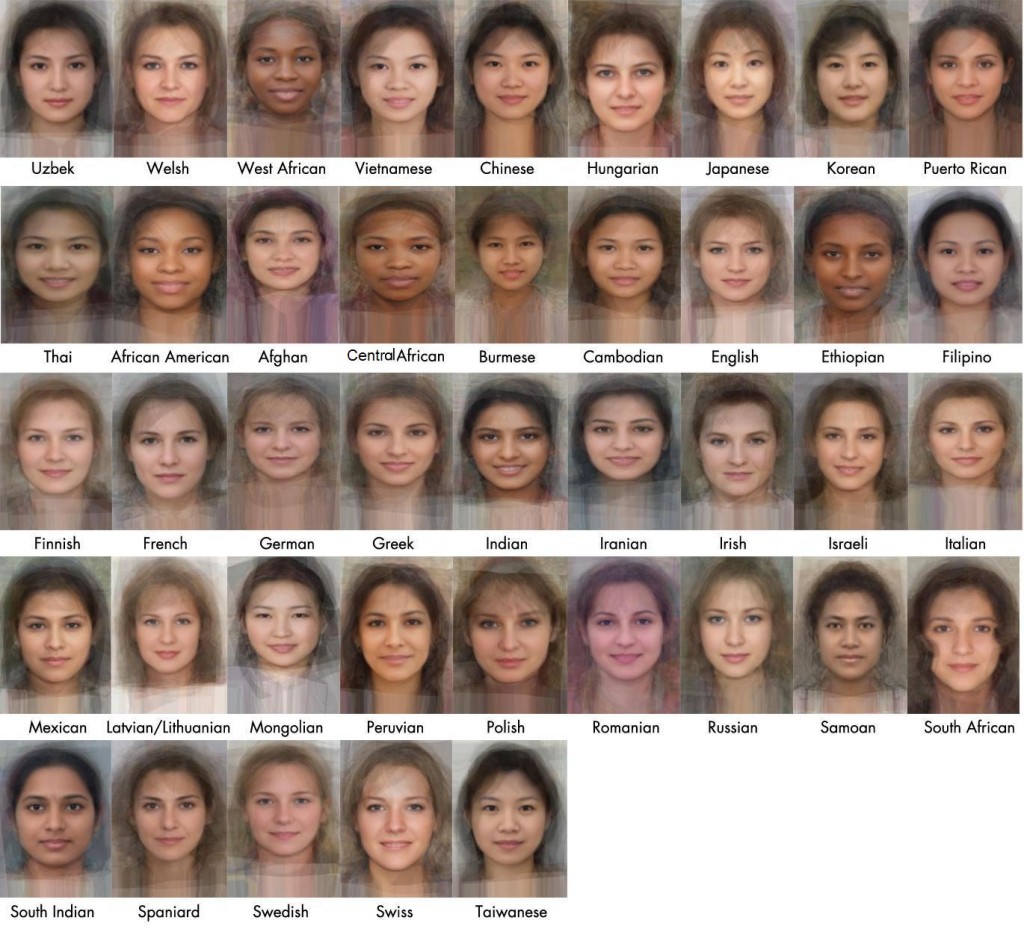 Take another look at Femina or Cosmo or Men's Health. I don't think it's going out on a limb to conjecture most of their cover models' features are within a very small gradation. So if you're a dark skinned, curly-haired, round-faced  South Indian (or Nigerian), guess what, you're not attractive. That North Indian boy ain't gonna court you. The Japanese girl isn't gonna call you back.
And it's not just about what we find attractive. Studies have shown that whom we consider to be homely affects our attitudes towards them. So, the Englishman may not promote you. The Amrikan won't admit you to her iskool. The Russian judge isn't going to give you a 10.
And none of them may truly realize that they're being prejudiced.