Since I'm never good at explaining it in person, let me take a quick stab at explaining the logic behind superstition.
Superstitious behavior is a convoluted but well-meaning attempt to use the Scientific Method to affect the outcome of a contest. Quite simply, if a particular action coincides with the favored outcome, then I will attempt to replicate the same conditions going forward. I am attempting to "control" for a particular set of variables.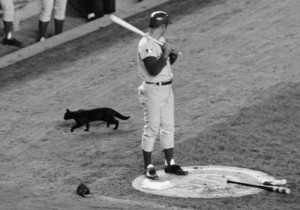 The complexity of truly superstitious behavior is something with which we constantly struggle. I sit in a particular seat for a football game but what did I have to eat. Was my dog wearing his jersey. How and when did I cross my legs. Who was I texting during the game. And on and on and on.
The skeptic will surely point out that where I choose to sit for a football game in my living room cannot logically have an impact on the outcome of the contest. This is where the convolution comes to the fore. It's the butterfly effect run amok and in an increasingly flat world, who's to say which dots connect to each other.
Perhaps if I get up to get something to eat at a particular time, my dog will get up to follow me as well. He'll trip on the speaker wire, which shorts out my TV. The electrical surge will travel from my house downstream to the power company, which supplies the power for the lights at the stadium of my team. The stadium lights flicker during a critical play in the game, causing a wide receiver to momentarily lose his concentration. Finally, he drops a pass that would have ensured victory for my team!
And don't think I can't connect my actions to an away game, to an international game, to any game. Is your mind boggled yet? Welcome to my (sports) life.
Photo Credit: Bettman/CORBIS