by Maher S. Hoque on Apr.23, 2009, under College Football, Football, Pro-Football
I daresay I'm one of the few football fans out there who has little interest in the upcoming NFL draft. I may track who the Steelers take with their first couple picks but I don't tune in to ESPN all day or get immersed in the minutiae of late round picks or talking about a potential draftee's upside or the dreaded "value pick". Give me a damn break.
Mel Kiper has to be one of the greatest snake oil salesmen in modern history. He whiffs on picks, mis-analyses players and generally mucks up the works. I remember a number of years ago, he claimed that the Steelers would regret for years afterwards not picking Chad Pennington, a player at the time whose greatest upside was that he was a "poor man's Joe Montana". As if.
I suppose that the draft is a time of hope for those who root for inferior teams. But I support a team and organization whose drafting prowess is so well-established that there's really no point in my questioning their draft decisions. This year, the Steelers will be looking to shore up OL, DL and DB. They could also use some depth at WR and LB. Yes, I pretty much named every position except QB. No wait, the Steelers might need to draft a late-round QB for #3/#4 QB depth reasons.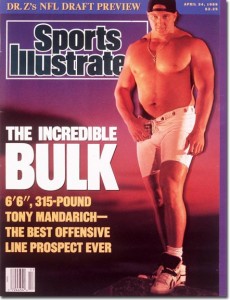 Tony Mandarch was a colossal flame-out.  Rod Woodson was a highly rated first round pick. James Harrison and Willie Parker went undrafted. Donovan McNabb was booed on draft day. Tom Brady was a 6th round pick. Joe Montana was a 3rd round pick. Tim Worley was drafted ahead of Emmitt Smith. Gabe Rivera was drafted by the Steelers instead of Dan Marino. I do get interested in where Pitt kids or my favorite college football fantasy players may get drafted but it's still worth noting that Curtis Martin slipped into the 3rd round and had a Hall of Fame career nonetheless.
Wake me up when training camp starts. Otherwise, I think I'll skip Kiper and his faux intensity.
:Chad Pennington, College Football, Curtis Martin, Dan Marino, Donovan McNabb, Emmitt Smith, Football, Gabe Rivera, James Harrison, Joe Montana, Mel Kiper, NFL, Pitt Panthers, Pittsburgh Steelers, Rod Woodson, Tim Worley, Tom Brady, Tony Mandarich, Willie Parker