… or why I hate being kicked when I'm down
I'm not much for trash talk. I don't usually like to rise to the bait. Superstition plays a huge part here because I fear what the sports Gods will do when faced with such presumptuousness. Call me paranoid but when your first full season following a sport ends because of a Francisco Cabrera single, you don't tend towards overconfidence.
I do recognize the role of trash-talk for both fans and the players. But by and large, players make nice after a game. They shake hands in hockey, basketball, football and soccer even at the end of a hard-fought, bitterly contested game. They may not like each other but they at least attempt to act civil. Fans, however, often keep on talking after the games. (And before anyone tries to say that we have the right to speak as we choose, please SHUT UP. Your right to act like a boor is not in question here).
I think it's all good and well (and perhaps a little fun) to trash-talk before or even during a game. But afterwards, act like you've been there. I'm one of those fans who, for better or worse, takes my sports affiliations way too seriously. I take it personally when my team loses. I can't even watch Sportscenter for a few days after a big loss to say nothing of having to hear some blathering idiot drone on about the superiority of the foe who vanquished my team. I'll give them their dues but just let me move on.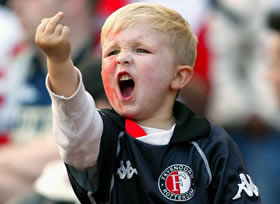 Some people place value on kicking others while they are down. I, however, prefer NOT to be kicked when I'm down for the count. In the former stance, the individual(s) in question is, hopefully, thick-skinned enough to take it when the team loses because this behavior defines turnabout as fair play. In  the latter stance, you have to act like you've been there before regardless of the outcome; be gracious in victory or defeat.
While we all get some morbid satisfaction from the misery of others in defeat, I don't think there's any reason to rub it directly in their faces. For me, the greater pleasure is celebrate my team's achievements with my fellow fanbase.