Archive for March, 2010
by Maher S. Hoque on Mar.04, 2010, under Football, Hockey, Pro-Football, The Bigger Picture
It is easy in the wake of monumental sports events to assign too much credit to a particular individual. It is even easier, in hindsight, to assign too little credit. To nitpick over effort given, a missed coverage, a turnover here, or a blown breakaway there. Yet sports isn't played in hindsight. Nor should it be judged solely out of its immediate context. Balance is the key.
The Pittsburgh Steelers won Superbowl XL, in large part, despite the efforts of their sophomore QB, Ben Roethlisberger. Yet the Steelers reached the Superbowl, in large part, because of Ben's outstanding play in three road playoff victories at Cincinnati, Indianapolis and Denver, to say nothing of the Immaculate Tackle on Nick Harper. The Steelers reached Superbowl XLIII, in large part, because of their defense. They won it, in large part, because of Roethlisberger's last minute heroics.
Evgeni Malkin won the 2009 Art Ross Trophy as the NHL's regular season scoring leader. He led the Stanley Cup Playoffs in scoring, edging out teammate Sidney Crosby by five points and won the Conn Smythe Trophy as the Playoffs MVP. Yet it was Penguins Captain Sidney Crosby who first lifted the venerable Stanley Cup during the trophy presentation. And it is Sidney Crosby who is consistently seen as the most important player on the Penguins.
Crosby had a ho-hum ride during much of the 2010 Olympic hockey tournament. Until he scored the game winning shootout goal against Sweden in the preliminaries. And then again when he scored the Gold-medal clinching overtime goal against the USA. Despite setting up him brilliantly, it is Crosby, not Jarome Iginla, who is hailed as the conquering hero.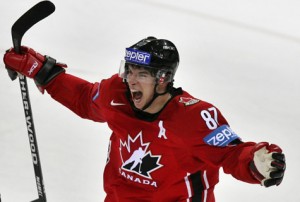 There will be, as always, those who downplay the contributions of players such as Roethlisberger and Crosby if they fail to dominate play at all times. Who will call them overrated and over-hyped and a product of the system. In other sports lifetimes, the same hyperbole was used on Joe Montana and Terry Bradshaw. Lucky and overrated. Surrounded by great players. The team won, not the individual player. No shit, Shirlock.
Yet it can't be coincidence that such players are the ones who just happen to keep coming up on the winning side, that are practically omnipresent in the biggest moments in sports*.
It won't always show up on the stat sheet but what do we really mean when we say that a player wills his team to victory. The best players do that. They.show.up., clichéd as that sounds. No one should be defined solely by titles won. However, it is fair to judge them by the moments they own within the circumstances presented to them and the moments they create for their teams of their volition and will to succeed.
So if you want to talk about Willie Parker's run in Superbowl XL or James Harrison's romp in Superbowl XLIII, fine. Or highlight Iginla's or Roberto Luongo's work for the Canadians, by all means, do so. But their work does not diminish the driving forces and players behind such triumphs. The ones that actually put the puck in the net.
——————
* Dan Marino. A great player, who never won a Superbowl, cursed to play for an overrated buffoon of a coach. I can't claim to be completely objective on Marino, a Pitt alum, but that's a post for another day.
Leave a Comment
:Ben Roethlisberger, Canada, Evgeni Malkin, Football, Hockey, James Harrison, Jarome Iginla, Pittsburgh Penguins, Pittsburgh Steelers, Roberto Luongo, Sidney Crosby, The Bigger Picture, USA, Willie Parker, Winter Olympics
more...
by Maher S. Hoque on Mar.01, 2010, under Futbol/Soccer, Hockey, The Bigger Picture
… or Emigration vs Immigration
It is, I think, endemic to the constitution of the USA that the issue of Club vs Country/Émigré vs Immigrant can sometimes be a difficult one, as concerned with sports. Ours is fundamentally an immigrant nation even if much of the populace is several generations removed from crossing the pond (or jumping the fence). What do you do when the country of your ancestry or childhood lines up opposite the one whose passport you hold.
That more FIFA World Cup tickets were purchased by denizens of the USA than any other nation is not necessarily a strong show of support for USA Soccer. It is as much an indication of the old-world loyalties that many Americans still carry. To Italy or Spain or Greece or England. To Nigeria or Ghana or Cameroon. To Mexico or South Korea or Brasil or Argentina.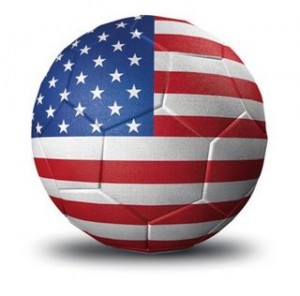 For those who don't have an ancestral horse in a particular race, they may develop an affinity for a country whose style (or women) they like or whose players ply their trade for the person's chosen domestic club. Fernando Torres of Spain for Scousers. Didier Drogba of Côte d'Ivoire for Chelski's. Kaka and Ronaldinho of Brasil for Real Madrid and AC Milan, respectively.
In a similar parallel, it was a bittersweet moment for many Penguins fans when Canadian Sidney Crosby flung the puck past USA goaltender Ryan Miller in overtime of the Olympic hockey gold medal game on Sunday. "At least it was Sid," texted a friend of mine. But still others supported the Canadians outright to the exclusion of Team USA because of Sid, Jordan Staal and Marc-André Fleury. For my part, I supported Team USA but I'm not crushed that it was our Sid who delivered the hammer stroke. (And that once again Alex Ovagkin proved he is not clutch nor as great as Sid).
Though not particularly conflicted in ice hockey, I will admit to it in national team futbol. I'll root for the USA but the Super Eagles of Nigeria truly claim my futboling heart even though I was only six years old when the family left west Africa. I don't really know what I would do if the twain should meet in a match.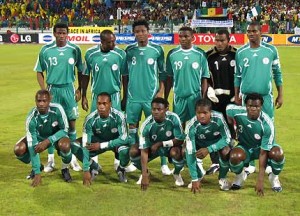 Does this make me less of an American or must I always root for the USA in such a trivial pursuit as sports? While political dissent is not automatically a show of dis-loyalty to one's nation, we are taught that sports loyalties are more black and white. Yet, nationality isn't so cut and dried an issue anymore.
In a globalized age, with so much movement of peoples to and fro, there is a certain malleability to our sporting and national identities, especially given the very founding of this country as a refuge for the "the wretched refuse of your teeming shore… the homeless, tempest-tossed." To pledge allegiance to the USA does not mean, in my mind, to discard one's past heritage because I believe I must find an America that is true for me. It is a fluid motion and a conversation that must needs continue through time.
Still, if you're not gonna put a boot up my arse, I'll gladly share some gari or fufu and goat stew with you this summer. Bring your own Yuengling or Malbec if you choose.
Leave a Comment
:AC Milan, Argentina, Brasil, Canada, Chelsea FC, Côte d'Ivoire, Didier Drogba, England, Fernando Torres, futbol, Ghana, Italy, Kaka, Liverpool FC, Nigeria, Real Madrid, Ronaldinho, Ryan Miller, Sidney Crosby, Spain, USA, World Cup
more...