Archive for March, 2011
by Maher S. Hoque on Mar.10, 2011, under College Football, Football, MST
Since SMU football received the NCAA Death Penalty, there's been a saying in college sports that any time an Alabama or a Kentucky commits major violations, an East Tennessee State or a Montana will get slapped with NCAA sanctions.
MST has learned that the NCAA has indeed levied sanctions against Miami University of Ohio in order see that justice be done in the case of Ohio State head coach Jim Tressel lying about his knowledge of "Tattoo Gate". In an ingenious twist, the NCAA will use time travel, not to levy actual sanctions against the University, but will instead seek to sully and damage the school's reputation. Actual far-reaching sanctions, as we all know, are not what the NCAA is all about.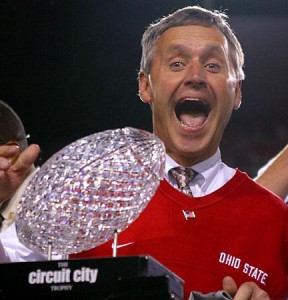 By "arranging" for the University of Pittsburgh to hire away then-rising star Mike Haywood as its head coach while simultaneously trumping up charges of domestic battery against Haywood, Miami(OH)'s vaunted reputation as a cradle of coaches will be sullied and Haywood's career ruined. The Redhawks are left wondering what might have happened had Haywood had not left Oxford, Ohio. In addition, a joint sting operation between the NFL and NCAA will see to it that the (already sketchy) reputation of Steelers QB and Miami of Ohio product Ben Roethlisberger is battered to pieces by allegations of sexual misconduct.
Now you're probably wondering why the NCAA wouldn't just 'let' Haywood stay at Miami(OH) and then humiliate the school with his scandal. But that would be a logical move. And we're talking about THE FUCKING NCAA, HERE!!
Leave a Comment
:College Football, Jim Tressel, Miami of Ohio Redhawks, Mike Haywood, MST, NCAA, Ohio State Buckeyes
more...
by Maher S. Hoque on Mar.07, 2011, under Basketball, College Basketball, College Football, Football, Pro-Basketball, Pro-Football, The Bigger Picture
Being a fan means that we have expectations of the teams we follow, be it a professional or college team. There was once a time when we held different expectations of even our major college teams than of our professional teams.
A professional athlete, at least by definition if not by attribution, plays the game for a wage; he has on-field metrics to attain, the loftiest of which is to win a championship. I think it's fair to hold most professional athletes to this standard. Though we may praise them for noteworthy efforts in defeat, ultimately, such outcomes are a failure.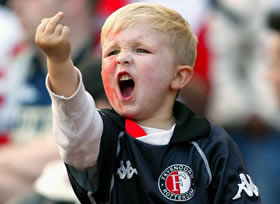 A major college athlete, however, is still an amateur. I know that in today's cynical world, we like to deride the corruption and avarice of major college athletics. I'll not demure from such characterizations but I've known a few who played college football and I can vouch that they saw the importance of getting on with their "life's work" (as Chuck Noll called it) faster than we, the jaded public, may give them credit. No, such individuals didn't morph into Rhodes Scholars or lead perfect lives but they took their courses of study no less seriously than the non-athlete students who have always known they were destined for the cubicle farms of modern workaday America.
So, if we allow that the vast, vast, vast majority of college athletes are truly amateurs, then the expectations we place on them must be reasonably commensurate with that amateur status, even for major athletics programs. The lofty olden goal of the college athlete has always been to grow as a person, to use athletics as a past-time and as a means to earn a college degree and prepare for a non-football future. Winning is important, as it is in the real-world, but there were different levels of winning.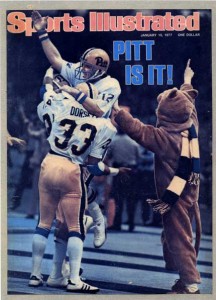 The stated goal of Michigan's legendary head coach Bo Schembechler was to win the Big Ten title and anything that happened in the bowl game afterwards was gravy. Schembechler was 5-12 in bowl games, 2-8 in the Rose Bowl and never won a National Title. Such an absymal bowl record would probably have gotten him fired at Big Blue these days. In 1963, Pitt football compiled a 9-1 regular season record and earned the #3 poll ranking. When they were shut out of the so-called National Title game and offered to play in a lesser bowl game, the athletes declined. Because that bowl game interfered with Finals week.
As I survey major college basketball around this time every year, I hear talk about the "next level" and what type of results in the NCAA Tournament would make for a successful year. For the minnows, it's just getting into the NCAA Tournament. But for most high-major programs, the goal is to win the National Championship and less is often considered something of a failure. There's nothing wrong with expecting to win a National Championship. I would hardly call Duke's program corrupt for holding to such a standard.
Coaches today will talk the same game. No less than Pitt's Jamie Dixon has stated that winning a National Title, not just breaking in to the Final Four, is Pitt's true goal. As a Pitt sports fan, I do love that statement. But even though the Final Four and the Elite Eight and even the Sweet Sixteen are largely ESPN-marketing driven creations,  they still serve as reasonable levies against what is otherwise our just-win-baby culture. Yet coaches successively come under fire when their programs somehow can't get thru the Sweet Sixteen, then the Elite Eight, then the Final Four, then the National Championship. If it took the greatest college basketball coach of all-time, John Wooden, 15 years to get UCLA to a Final Four and 16 years to win a National Title, I'm ok with keeping my college sports expectations in check.
Leave a Comment
:College Basketball, College Football, The Bigger Picture
more...