Talent as much as hard work perseveres in college football. Many of the great high school athletes play two positions in high school – RB/LB, WR/LB, QB/DB, etc. They then pick one position for college. It's up to the college coach to put his players in a place to success but the truly gifted can probably still get by on talent in college. Some let the coach pick, others insist on a particular position.
Sometimes selfishness pays off. Pitt great Larry Fitzgerald recently revealed that he was nearly swayed by the grand experiment, the "success with honor" bullsh*t peddled by Joe Paterno at Pennstate. He nearly became a Nittany Lion linebacker.
More than 10 years ago, this [numbers-first] attitude led to a life-changing decision. He said no to Joe Paterno, who wanted Fitzgerald to play linebacker, to be part of a great Penn State tradition.

"I played linebacker all the way up to my senior year in high school," Fitzgerald said. "I was heavily recruited as a defensive player. I had about 25 to 30 offers coming out, and probably 70 percent of them were defensive offers. I grew up watching Penn State, and was really enamored by the defense at Linebacker U."

Except Fitzgerald was chasing something else, and he did something rare. Like Tony Dorsett, he chose the University of Pittsburgh instead, where Fitzgerald would be the team's star wide receiver, catching 34 touchdown passes in two seasons before jumping all the way to the NFL.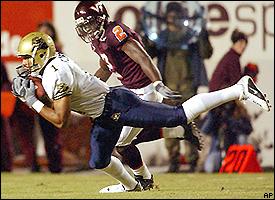 Despite their well-worn reputation as "Linebacker U", perhaps Pennstate should stop trying to turn every great athlete into a linebacker!
LaVar Arrington was a RB/LB in high school. In fact, he was known as much for his running skills at Mars & North Hills High School so it was a surprise to me when he switched over to LB fulltime at Pennstate. Paterno may have gotten it right on this one but I've always wondered how Arrington would have done at running back.
Pro football Hall of Fame Quarterback Jim Kelly grew up in East Brady, PA, in the heart of Pennstate country. He always wanted to play at Pennstate. The only thing he wanted to do more than play at Pennstate was to play quarterback. But Joe Paterno wanted him at LB. So Kelly chose to go to the University of Miami instead. Bam.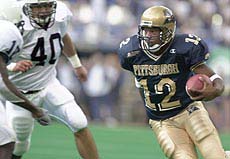 Former Pitt QB Rod Rutherford was one of most sought after recruits in the country during his days at Perry Traditional Academy. Almost no one thought he would end up at Pitt, especially after the sainted Paterno paid an in-person visit to the Rutherford house. But Pitt coach Walt Harris did what Paterno wouldn't do. He promised Rutherford the opportunity to play offense, namely QB, not linebacker or safety. Two years later, Rutherford scampered 60+ yards for the only touchdown in the last game Paterno ever coached against Pitt. For his career, Rod Rutherford finished with 458 completions in 840 attempts, passing for 6,725 yards and 60 touchdowns.
Photo Credit: John Beale, Pittsburgh Post-Gazette
[As an aside, I don't really feel like commenting on the whole PSU/Paterno/Sandusky conflagration. So instead, I'll rip on Pennstate in the way they'll best understand, on the gridiron].