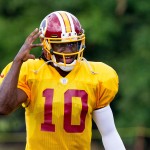 I've talked before about how college football (and basketball) programs are either institution-defined or coach-defined. The bluebloods are institution-defined – think Michigan, USC, Ohio State etc. Those just below that threshold are largely newcomers who haven't (yet) proven they can rise above their iconic coach or who never did prove it – think Virginia Tech under Beamer or Arizona State after Frank Kush.
An interesting parallel is the idea of a coach or player defining the image of a professional sports franchise. In an article yesterday on
Behind the Steel Curtain
, Anthony Defeo contended that some franchises are more iconically identified with a certain coach or player than others.
In the 60s, Vince Lombardi was the face of the Packers franchise, so much so, in fact, even today, it's hard not to talk about those championship teams without saying "Lombardi's Packers," with his fiery presence on the sidelines of Lambeau Field being the first image that pops into your head. Lombardi was such a larger than life figure, the Super Bowl trophy is named after him.

In the 80s, John Elway was the engine that drove the Broncos, and he so dominated franchise news, a local newspaper ran a section called "The Elway Watch," chronicling every piece of information, both on and off the field, about the ultra-talented quarterback.

More recently, Peyton Manning was the man in Indianapolis, as he gave the Colts credibility and Super Bowl status after many years in-which the franchise was a laughingstock and far removed from its proud Baltimore roots. Speaking of Manning, he was such a huge personality, it may not be foolish to say he cast an even bigger shadow than Johnny Unitas did when he was the face of the Colts franchise back in the 50s and 60s.
Defeo posits that RGIII is now the Washington Redskins. I don't know how much I agree with that formulation (yet). Griffin has certainly taken DC by storm but he hasn't transcended the Redskins. A franchise as consistently successful as the Redskins is more institution-defined than player/coach-defined.
The difference betwixt agreeing that Elway = Broncos but Griffin != Redskins is the degree of past success. Or in the case of Manning = Colts, a rather lengthy time in between periods of success. The Broncos were nothing before Elway arrived. The Colts were a city and a generation removed from Johnny Unitas' lengthy shadow.  That's a pretty vast remove. Even though the Redskins haven't won a Superbowl since 1991, I don't think that RGIII casts such a long shadow even yet. He has to win a couple Superbowls for that to happen.