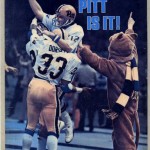 … Or On Pitt Sports Capital Priorities

There are two stories related to Pitt sports that just will never die. The first is the Pitt script logo.
The second issue that never dies is the fact that Pitt no longer has an on-campus stadium. The Pitt News reported on a group of alumni trying to drum up support for a new stadium to be located in Panther Hollow. The plan appears to reasonably well thought-out, if not a bit earnest. A couple tidbits:
Mack and Andra's plan is far from short-term. Both men consider the plan a long-term solution to Heinz Field's inevitable deterioration within 20 to 25 years. They say that Pitt needs to consider where the football team will play if the Pittsburgh Steelers decide to build their next stadium in a location outside the Pittsburgh city limits.

… In addition to a stadium that could hold from 44,000 to 50,000 people, his plan includes a dormitory built into the stadium, a track surrounding the field for the men's and women's track and field team and an area for office space.

… In order to make room for the large new complex, a number of properties in Panther Hollow between Joncaire and Boundary streets and Yarrow Way would need to be purchased. In addition, Mack said the Frick Fine Arts Building would need to be moved onto Schenley Plaza, and Mazeroski Field would be demolished, though he said the new stadium would also include a Pittsburgh Pirates museum.

… Mack said the plan includes the building of a multi-level parking garage that could hold between 1,200 and 1,500 vehicles. He also said that the Allegheny Valley Railroad could expand its commuter service operations and extend into Panther Hollow using the pre-existing railway.
Click here to read the whole Pitt news article or visit the group's site.
Now, I would love to have an on-campus stadium again. If the group can overcome the logistical and political problems, that would be a huge step forward. But I have one major gripe with any plans to build a new stadium on Pitt's campus. It's not about the money, which can be handled. It's about priorities.
In a project of this magnitude, cost is always a factor, and Mack and Andra readily admit this. They project that, in total, the project would cost $700 million, with all funding coming from alumni benefactors. They also projected that the new stadium would lead to about $47 million in revenue during its first year.
Should. Should Pitt even try to raise $700 million for a new stadium? For me, the answer is a resounding no.
With the exception of one year spent in Kansas City, I've been a Pitt football season ticket holder since 1998. You can't accuse me of not loving Pitt football. Of not loving Pitt sports. I know what sports can do for a university's self-image and general national reputation. I've been to college football games at UVA, South Carolina, Pennstate and Texas. [Addendum: Since this article was published, I've been to games at Virginia Tech and Michigan as well]. The effect is tremendous. Pennstate would be just another pretty good school without Joe Paterno. Not a nationally known university that draws students from places as far flung as North Dakota.
But ultimately, the University of Pittsburgh cannot and should not overemphasize football to such a degree that they spend $700 million to build an on-campus stadium when a perfectly free & serviceable, albeit imperfect, situation is afforded them at the UPMC Sports Complex and Heinz Field. It doesn't matter to me that the money could be raised by alumni. Yes, it could. But it would be better to continue the capital and intellectual improvements that have transformed Oakland, that have raised Pitt's endowment to over $2.5 billion and continue to push Pitt forward academically.
I do believe that Pitt can field winning sports teams in football and basketball and the olympic sports while continuing its primary academic mission. But in an age of continually rising tuition costs, spending more and more and more on sports is a detriment to that primary mission.
Playing football at Heinz Field is not an ideal situation. I've seen that stadium half empty and pathetic (FCS opponents, bad weather, bad Pitt teams) and I've seen it rocking and rolling (Larry Fitzgerald's second season, games vs ND, ESPN Gameday in town, and even that epic meltdown game vs Cincinnati in 2008). Winning football built and expanded Beaver Stadium, not the converse.
Heinz Field's weaknesses can be overcome by one simple act. WINNING. Fans flock to see winners. The gameday atmosphere is enhanced by winning. If Pitt football is as anticipated as it was during Larry Fitzgerald's sophomore year or as successful as it was in the late 1970's or just a perennial top-25 program like Pitt basketball, Heinz Field will light up and no one will think to spend $700 million on an on-campus stadium.
Hail.