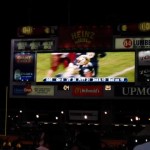 As the host of College Gameday (both football and basketball), ESPN's Rece Davis has a front seat view for the major events in college sports. He has to control and manage the sizable egos of his co-hosts. But he has some really great insights as shown in this interview with Cardiac Hill.
On overhauling the NCAA system:
I'm like most college fans. I love the nostalgia associated with the game. I wish that simply donning the blue and gold and hearing Hail to Pitt made every player tear up and that was reward enough. For some, it is. What I can't come to terms with is restricting athletes in ways that no one else associated with college sports or no other student on campus is restricted.

I fully realize there would be issues, probably major ones, but I think it would be more a transparent enterprise. In the long run, it would be healthier for the game.
Davis is absolutely right. Holding to the status quo does nothing to save the games from Athletic Directors and Presidents who have lost their minds and morals chasing greater and greater TV revenues. If these so-called academics cared about the principles of amateurism, they wouldn't have expanded the calendar to 12 and sometimes 13 and 14 games. They wouldn't relax their academic standards to such a degree that "passing the SAT" (read: 800) is an actual thing.
There has to be a middle ground between providing some compensation to players for their efforts on the field, ensuring that they truly receive an education and, well, winning.
On Paul Chryst:
Paul Chryst is absolutely perfect for Pittsburgh. He's a highly regarded coach, he's tough-minded with great values and he's just what Pitt needs to stabilize their situation. He's not afraid to make tough decisions and instill discipline in order to build his program. And that's what he's building, a program, not just a team. In a pro market, attendance is always challenging. With the sensational home viewing experience now with HD and affordability of giant screens, the question is always, how do you get fans to fill the stadium? The only cure is winning big.
I keep coming back to this novel idea of winning. Nothing else but winning will cure Pitt's attendance and exposure issues. People can bitch and moan all they want about bringing back the Pitt-script logo or building an on-campus stadium. But I wore the Pitt-script logo to games at Pitt stadium that were barely 50% capacity. Because the program stunk. Because the team didn't win. Because the administration (prior to James Maher and Mark Nordenberg and even yes Steve Pederson) didn't care about building a winning athletics program.
No one was really complaining about attendance issues or logistics at Heinz Field during the 2003/04 season. With Larry Fitzgerald catching 10-jillion touchdown passes, Pitt went 9-4 and knocked off Virginia Tech before a packed, rockin' Heinz Field house that also had ESPN Gameday in attendance. Lee Corso even put on the Panther head!