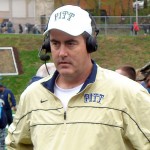 "Pitt" – it's a noun, an adjective and a verb. It describes the football or basketball teams' propensity for finding a way to mess up in a truly heart-breaking fashion. It's not exactly choking, though that's part of it. It's finding a way to give fans hope and then failing to finish off an opponent in such a way as to engender crying while having a heart attack.
For instance, last year's game versus Notre Dame. Pitt nearly upset Notre Dame a year ago, blowing a 14-point fourth-quarter lead in South Bend then allowing the Fighting Irish to escape in triple overtime, a victory that kept Notre Dame's perfect regular season alive. Not only did Pitt lose that game in truly Pitt fashion, but it led to a chain of events that forced the country to watch Notre Dame 'compete' for the national title. Seriously, America, we still apologize for not beating ND last year.
This year, Pitt has had a number of close losses. Some have been straight choking dogs, like the losses to Virginia Tech and Georgia Tech, where Pitt couldn't do a thing all game and just got beat. That's not pulling a Pitt, strictly speaking. That's just incompetence. The losses to FSU and Miami were just straight up beats. To pull a Pitt, the team has to show life, give hope and then find a craptacular way to crap it all away. (And yes, using crap consecutively was necessary).
But for me, the progress comes from Pitt pulling  the ever-rare Anti-Pitt. This year's Notre Dame game serves as the prime example. Pitt kept the game close through the 3rd quarter but ND took a 21-14 lead. But rather than wilt, Pitt came back to take a 28-21 lead and then held on! There was no derp'ing!
Last night, Pitt could have derp'd it all away. Against MAC-champion Bowling Green, the Panthers raced out to a 17-3 lead. Then, an unsportsmanlike penalty on all-everything DE Aaron Donald gave Bowling Green a first down, nullifying what would have been 4th down. That penalty woke up Bowling Green as the Falcons went on to score 17 unanswered points.
But no! Pitt didn't wilt. The Panthers fought back, tying the score twice before taking the lead on a field goal to go up 30-27. And they made it stand up! I can't tell you how many times over the years, the Panthers have failed to failed finish off an opponent, wilting at the last minute. This team did that twice this season. They held on.
I'm not going to say that Paul Chryst's Pitt is primed to contend for an ACC title next year. This is clearly a slow build. But it gives me hope, at least, that twice this season, these Panthers fought back and finished off an opponent. That's an Anti-Pitt. That's progress.