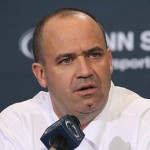 So it looks increasingly likely that Penn State head coach Bill O'Brien will be flying the coup. I'm honestly surprised it's happening so soon. Not necessarily because I thought he'd see out the sanctions period. But because I didn't think he'd become a serious candidate after only two years. Don't get me wrong, he's done yeoman's work for PSU. I just didn't think NFL teams would come calling so soon.
Even if O'Brien doesn't jump ship this offseason, it's a strong bet that he'll leave very soon thereafter.
If I was PSU looking for his successor, I would stay clear of 49ers Offensive Coordinator Greg Roman and (former) Tampa Buccaneers Head Coach Greg Schiano, two names which garnered interest in their last coaching search. I'd even stay away former Pennstater and current (for now) Tennessee Titans Head Coach Mike Munchak. These are NFL guys. That's where they want to be; at the supposed pinnacle of football coaching. (Personally, I don't think that coaching, as opposed to playing, in the NFL is the peak of the profession though let's leave that for another day).
Penn State should go after a college guy. A guy who understands the college game and appreciates its strengths and weaknesses. Someone who won't pull a Schiano (or O'Brien) and leave the program high and dry to pursue the NFL. Even if Munchak would stay at PSU for the long haul, he has no experience whatsoever in coaching at the college level. Not even at the GA or Assistant level.
Find an up-and-coming offensive or defensive coordinator or HC at a lower level school (which are, to be honest, most schools compared to Penn State). Make him the face of the program and afford him the same patience as is/would have been given to O'Brien. A few candidates:
Vanderbilt HC James Franklin. Excellent recruiter who is actually winning with regularity in the SEC despite Vanderbilt's extremely strict academic standards.
Clemson OC Chad Morris. One of the brightest offensive minds in the country. Makes a cool $1.3 million. Although PSU could beat that number, he appears to be in no hurry. Still worth pursuing.
Alabama DC Kirby Smart or Michigan State DC Pat Narduzzi. Both considered to be among the best defensive minds in college football. Both recently passed up on head coaching opportunities so it's no lock that they'd jump at PSU and its sanctions.
Boston College HC Steve Addazio. Revived a moribund Temple program, nearly beating Penn State themselves in a regular season showdown. Took BC to a bowl win this year. Has experience coaching and recruiting in the northeast as a result of his stops at Temple and BC.

[Edit: As has been pointed out to me, "revived" is not the right word to describe Addazio's 2 years at Temple. He continued on what Al Golden had done. 9 wins in year 1 and 4 wins in the program's re-entry into the Big East is nothing to sniff at for a program like Temple.]
Duke HC David Cutcliffe. 10-2 at Duke. At Duke! This guy just knows how to win. Who knows whether he'd move to Penn State though. Cutcliffe turned down the Tennessee HC job, to which he has a much stronger attachment, a few years ago but he's worth a shot.
Arizona State HC Fraud Graham. hah, just kidding about that one.
Although they reportedly considered Munchak the last time around, I think the Penn State administration did well to go outside of the family. They should continue to do so when O'Brien leaves, no matter when that happens.