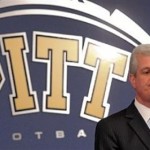 Well then, I think my hypothesis that Pitt football can become a Wisconsin got a huge shot in the arm last night. Pitt BAMF Chancellor Patrick Gallagher saw fit to relieve Steve Pederson of his duties as Athletic Director, a position he's held for 13 years, resulting in no conference championships for the most important team in any major collegiate athletics department, football.
"Before beginning a robust national coaching search, Steve Pederson and I spoke this morning and we mutually agreed that this would be the appropriate time to make a change in athletic department leadership.
"With major decisions to be made about the future of football, I thought it was in the best interest of the University of Pittsburgh for Chancellor Gallagher to assemble his own team," Pederson said. "I am a Pitt and City of Pittsburgh fan, and want what is best for everyone moving into the future. I will miss the daily interaction with our great staff, coaches and student-athletes, but will enjoy watching them accomplish great things. To our friends and supporters, thank you for making this a great home for our family."
There were positives to Pederson's tenure:
   "Since arriving at the University in August, I have greatly appreciated my collaborations with Steve. Our athletic department has advanced in many significant ways under his leadership. Steve was an instrumental figure in Pitt's move to the Atlantic Coast Conference and thanks to his efforts our athletic facilities, especially the Petersen Events Center, rival any in the country. I want to thank him for his many important contributions to Pitt and his unwavering commitment to our student-athletes."
It can't be underscored how important it is that Pitt made it into the ACC ahead of Cincinnati and especially UConn. Pederson also had two successful hires. He brought Ben Howland from Northern Arizona, though I've heard that Sonny Vaccaro had a lot to do with that hire, just as he had a lot to do with Howland leaving to go to UCLA. Pederson also hired Walt Harris to resurrect the football program. That we now bemoan a 6-6 record is testament to the yeoman's work that Harris did.
But ultimately, Pitt football has been treading water since Harris left. Dave Wannstedt, who was hired by Jeff Long, had a 19-7 record in his last 26 games but I think the program was starting to go downhill. From Wannstedt's firing onward, the rest has been monumentally bungled. All with Pederson at the helm.
Chancellor Gallagher has made it abundantly clear that the most important job of the next athletic director will be to ensure that Pitt football does not continue to lag behind, to not realize its potential. That will entail working with boosters and the ACC's money to ensure that the next coach has the resources to pay assistants and recruit to Pitt's potential.
Today, I have more hope for the Pitt football to catch up and resume a place in the national conversation than I've had in a long time.
Related Articles
Can Pitt Football Become a Wisconsin