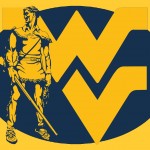 Inspired by Drew Magary's NFL preview series, Why Your Team Sucks on Deadspin, I decided to do a little of the same on the college side. This is the first in the series. Some people are fans of the West Virginia Mountaineers. But many, many more people are NOT fans of WVU or don't really give a shit about them. This preview is for those in the latter group.
Your Team: West Virginia University Mountaineers
Your 2013-2014 Record: 4-8. They became the first Big XII team to lose to both Kansas & Iowa State in the same season.
Your Coach: Dana Holgorsen. Raving drunken lunatic. Offensive mastermind. Who got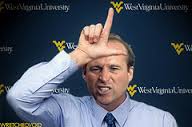 shut out by Maryland last year. Maryland! Three seasons ago, WVU hung 70 points on Clemson in the Orange Bowl. Two seasons ago, WVU got thumped by Syracuse in their bowl game. Last year, they didn't make one.
Your QB: Senior Clint Trickett. If ever there was a guy born to be a West Virginia Mountaineer, it's Clint Trickett. The name just evokes images of beards and missing teeth and 'coon skin caps, don't it. Perhaps he can double as the Mountaineer's musket-wielding mascot as well. Trickett won a whirlwind of a QB battle against three other combatants despite having offseason shoulder surgery and not taking snaps during fall drills. Now that's talent.
What's New That Sucks: Rushel Shell is now active. The former all-world recruit from who ignominiously left Pitt because he couldn't take a little bit of criticism from the world's 'neatest' coach, Paul Chryst, then was rejected by the lads at UCLA, and landed at, of all places, West by gawd Virginia. Look, I try really hard not to root against college kids because they're still kids and especially not against local kids but seriously.