Or why I'm entitled to my irrationality
Just as the Penguins have washed off the stench of Bill Cowher's Carolina-clad betrayal, along comes another character destined for villainy in the eyes of the Pittsburgh sports fan.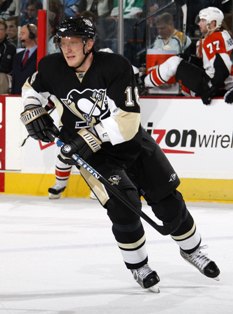 Last summer, Marian Hossa, the supremely gifted winger who played for the Penguins during the spring's playoffs, turned down a 7-year, $49 million offer from the Penguins to sign a 1-year, $7.4 million deal with Detroit. Hossa's stated reason is that he believes he had a better shot at winning a title with the Red Wings than the Penguins.
In the leadup to the Stanley Cup Finals, it has been posited that Penguins fans are being irrational for booing Hossa for leaving. An objective observer would say that Hossa's decision made perfect sense. He wants a title; he goes out and strengthens the reigning champions while simultaneously weakening one of their main contenders. Some have even gone so far as to say that Hossa should be lauded for taking less to play for a champion rather than making the big money grab. All fine points.
But who says that a fan has to be objective on this particular point? Why am I not entitled to my outrage, to my sense of betrayal? I'm a partisan fan! No other NHL team matters to me but the Pittsburgh Penguins. If you ain't with Pitt(sburgh), you ain't it. When someone effectively takes a swipe at my team, as Hossa did in taking less money to cross the aisle to Detroit, I sure as hell am entitled to feel as though that person has earned my enmity.
As with Cowher, I don't wish Hossa any general ill will. Hell, if somehow he re-signed with the Penguins this offseason, I'd welcome him back to the fold. A true fan needs no ulterior motives to root for his/her team but you can be sure that I would still take a great amount of pleasure if the Penguins came back from two games down to win the cup, thereby forcing Hossa to watch our players skated around with the Cup held aloft their heads.