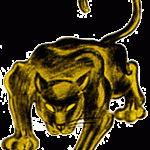 Or… Really, He's Writing About the Damned Script Logo?!
Yesterday, I wrote about the second most annoying common issue that Pitt partisans bring up – the lack of an on-campus football stadium. Today's let's delve into the most aggravating common issue – the script logo, which Pitt used from 1973-1996.
I get why people pine for the return of the script logo. It's pretty unique and just so happens to coincide (at least in its early years) with one of Pitt football's most successful spells, a period that included a national title and three straight 11-1 seasons as well as a cavalcade of stars. Of the 8 Pitt players enshrined in Canton, 6 wore the script logo – Chris Doleman, Tony Dorsett, Russ Grimm, Rickey Jackson, Dan Marino and Curtis Martin. Ruben Brown stands a decent chance of adding to that total.
I love the script logo but I've come to accept that the administration won't bring it back. Furthermore, a whole generation of Pitt fans has grown up without the script logo and so have no attachment to it. The current block logo is pretty decent, if not a little unimaginative. And both Larry Fitzgerald and Darrelle Revis (two possible Pro Football HOF candidates) made it proud.
| | |
| --- | --- |
| script logo, 1973-1996 | block logo, 1997-present. |
If Pitt were to use the old script as a third uniform in the same way that ND occasionally wears their green uniforms, I think that would be a decent compromise. But if the administration really wants to get creative,  why not bring back logos for eras past.