It is easy in the wake of monumental sports events to assign too much credit to a particular individual. It is even easier, in hindsight, to assign too little credit. To nitpick over effort given, a missed coverage, a turnover here, or a blown breakaway there. Yet sports isn't played in hindsight. Nor should it be judged solely out of its immediate context. Balance is the key.
The Pittsburgh Steelers won Superbowl XL, in large part, despite the efforts of their sophomore QB, Ben Roethlisberger. Yet the Steelers reached the Superbowl, in large part, because of Ben's outstanding play in three road playoff victories at Cincinnati, Indianapolis and Denver, to say nothing of the Immaculate Tackle on Nick Harper. The Steelers reached Superbowl XLIII, in large part, because of their defense. They won it, in large part, because of Roethlisberger's last minute heroics.
Evgeni Malkin won the 2009 Art Ross Trophy as the NHL's regular season scoring leader. He led the Stanley Cup Playoffs in scoring, edging out teammate Sidney Crosby by five points and won the Conn Smythe Trophy as the Playoffs MVP. Yet it was Penguins Captain Sidney Crosby who first lifted the venerable Stanley Cup during the trophy presentation. And it is Sidney Crosby who is consistently seen as the most important player on the Penguins.
Crosby had a ho-hum ride during much of the 2010 Olympic hockey tournament. Until he scored the game winning shootout goal against Sweden in the preliminaries. And then again when he scored the Gold-medal clinching overtime goal against the USA. Despite setting up him brilliantly, it is Crosby, not Jarome Iginla, who is hailed as the conquering hero.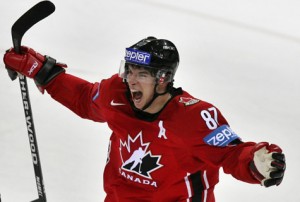 There will be, as always, those who downplay the contributions of players such as Roethlisberger and Crosby if they fail to dominate play at all times. Who will call them overrated and over-hyped and a product of the system. In other sports lifetimes, the same hyperbole was used on Joe Montana and Terry Bradshaw. Lucky and overrated. Surrounded by great players. The team won, not the individual player. No shit, Shirlock.
Yet it can't be coincidence that such players are the ones who just happen to keep coming up on the winning side, that are practically omnipresent in the biggest moments in sports*.
It won't always show up on the stat sheet but what do we really mean when we say that a player wills his team to victory. The best players do that. They.show.up., clichéd as that sounds. No one should be defined solely by titles won. However, it is fair to judge them by the moments they own within the circumstances presented to them and the moments they create for their teams of their volition and will to succeed.
So if you want to talk about Willie Parker's run in Superbowl XL or James Harrison's romp in Superbowl XLIII, fine. Or highlight Iginla's or Roberto Luongo's work for the Canadians, by all means, do so. But their work does not diminish the driving forces and players behind such triumphs. The ones that actually put the puck in the net.
——————
* Dan Marino. A great player, who never won a Superbowl, cursed to play for an overrated buffoon of a coach. I can't claim to be completely objective on Marino, a Pitt alum, but that's a post for another day.