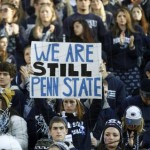 In an article for SI regarding the NCAA's decision to lift Penn State's bowl ban and scholarship restrictions, Zac Ellis writes:
The problem was that the bowl ban and scholarship reductions didn't affect anyone responsible for Sandusky's actions. Those sanctions didn't punish the likes of former Penn State president Graham Spanier, late football coach Joe Paterno, former athletic director Tim Curley and former vice president Gary Schultz, whose actions — or lack thereof — were at the heart of the scandal. What the NCAA's decision did was take opportunities away from prospective scholarship athletes at Penn State. These are players who had nothing to do with Sandusky or the school's administration. The NCAA forced the next Penn State regime — in this case, Bill O'Brien and his new coaching staff — into an extremely difficult situation of recruiting fewer kids into a program that couldn't go bowling for four seasons.
Ellis is correct that the penalties levied against Penn State didn't punish Spanier, Paterno, Curley or Schultz and did punish Penn State's football program and future players. But punishing rule breakers (in this case the institution of Penn State football) often does have collateral and deleterious downstream effects.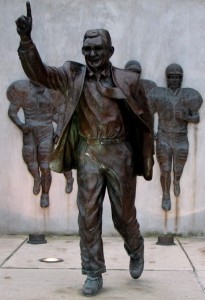 Those who would point out that the NCAA had no juris-my-dicktion in this case have a point. But they're also, in effect, saying that the football program should not have been punished at all. I have said it before and I'll say it again, the football culture at Penn State became so big and so important that it led to the actions which caused the scandal, which led otherwise good men to look the other way while heinous acts were committed. Penn State is a fine academic institution but football should never be as big as it is there; that's called lack of institutional control. It had to be taken down a peg.
And the folks who have bought into the myth of "Success with Honor", who worship(ped) at the altar of Joe Paterno and all he wrought have stood screaming into the wind while the rest of us watched, disappointed and horrified. They still think of Penn State as Shangri-La. This level of fidelity, emulated at other prominent football-centric schools around the country, is sad but not unique. If the folks at Michigan or Texas or Alabama think that it couldn't happen at their institutions, they're wrong, so wrong. Not because they're inferior people (we're all Fallen) but because they are simply people.
Perhaps I'm just screaming into the wind. While it's possible (hopeful) that the core workings of the Penn State administration have changed, I have seen nothing in the intervening years to dissuade me from believing that Penn State football isn't still the biggest, baddest cat in town. Folks who were once just a bit chastened are now dancing in the streets, believing that their institution is fully redeemed or that the NCAA's jealous vendetta against poor, innocent State has ended. I guess a few more years of sanctions wouldn't have changed the culture at Penn State, any more so than sanctions have changed Ohio State, Alabama or USC in preceding years. So let the kids go bowling. #Dominate.