Don't let all the Super Tuesday primary headlines fool you. February 6th – National Signing Day is one of the most anticipated days on the collegiate calendar. The masses quiver as they read the write-ups on some 17-18yr old who faxed a Letter of Intent to their favorite team.  There are no Red or Blue states for us.  There is only Maize & Blue, Scarlet & Grey, Burnt Orange or whatever ridiculous color scheme Oregon chooses this year.
While recruiting rankings are not but so much detritus, they're still fun. So let's dive in.
The big surprise this year has to be Clemson.  The Tigers made huge waves in recruiting, ranking #2 overall according to ESPN and #12 according to SI/Rivals.  Despite being wooed by the likes of Georgia, Florida State and Virginia Tech, Clemson managed to keep homegrown superstar DaQuan Bowers (DE; #1 ESPN150, #12 SI/Takkle) from leaving the Palmetto State.
Alabama came on strong with a class of 32 commits are ranked #3 by ESPN and #1 by SI/Rivals.  Landing Julio Jones (WR; #2 ESPN150, #1 SI/Takkle) was huge.  Miami (#1 ESPN, #4 SI/Rivals), also pulled in a stellar class for Randy Shannon.  Nick Saban is a proven big-time recruiter and Randy Shannon will not let south Florida fall to the Gators without a fight. Expect fortunes in Tuscaloosa and Coral Gables to rise in the next couple years.
The usual suspects also appear near the top of the rankings as well.  Florida, Georgia, Texas, USC, Oklahoma and Notre Dame all locked down top-10 classes.  Wait, Notre Dame?  The same Notre Dame team that lost to Navy and finished 3-9?  It's a simple truth that the University of College Football in America (self-named) will always be a major player.  The Genius Charlie Weis pulled in the #9 class according to ESPN and #2 according to SI/Rivals, addressing much needed team speed.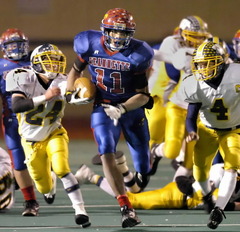 Every year some player is viewed as the next coming of Vince Young or Dan Marino or Fred Biletnikoff. He generates loads of accolades, awards drama and HYPE.  This year, the soap opera comes to us from tiny Jeannette, PA where all-everything recruit Terrelle Pryor (QB/ATH; #4 ESPN150, #16 SI/Takkle) is holding hostage such coaching lumninaries as Joe Paterno, Mike Bellotti, Jim Tressel and Rich Rodriguez.  This kid (yes folks, they're still KIDS) has been tearing up southwestern PA defenses for 4 years and has generated serious discussion whether he might be the best ever high school player to come out of the southwestern PA.  That's no small feat for a region that has produced the likes of LeVar Arrington, Joe Montana, Danny Marino, Major Harris and Tony Dorsett.  I remember Arrington's days as a RB/LB for North Hills high school.  Pryor deserves to be part of the conversation.
All in all though recruiting isn't an exact science.  Antonio Bryant was rated a 1-star player coming out of high school.  Leon Washington was once viewed as a can't-miss prospect for Florida State.  Not only do some players never develop but some coaches may ruin potential star careers through position switches.  Jim Kelly grew up dreaming of playing QB for Penn State.  Joe Paterno wanted to switch him to linebacker.  Kelly went to Miami to play QB and the rest is history.
Photo Credit: Pittsburgh Post-Gazzette
(Originally written for Deepslant.com)