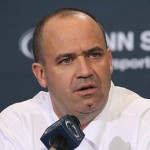 So it looks increasingly likely that Penn State head coach Bill O'Brien will be flying the coup. I'm honestly surprised it's happening so soon. Not necessarily because I thought he'd see out the sanctions period. But because I didn't think he'd become a serious candidate after only two years. Don't get me wrong, he's done yeoman's work for PSU. I just didn't think NFL teams would come calling so soon.
Even if O'Brien doesn't jump ship this offseason, it's a strong bet that he'll leave very soon thereafter.
If I was PSU looking for his successor, I would stay clear of 49ers Offensive Coordinator Greg Roman and (former) Tampa Buccaneers Head Coach Greg Schiano, two names which garnered interest in their last coaching search. I'd even stay away former Pennstater and current (for now) Tennessee Titans Head Coach Mike Munchak. These are NFL guys. That's where they want to be; at the supposed pinnacle of football coaching. (Personally, I don't think that coaching, as opposed to playing, in the NFL is the peak of the profession though let's leave that for another day).