By and large, I consider myself to be a fortunate sports fan. My teams generally do well. Two Superbowl titles, 2 Stanley Cups, 7 Sweet Sixteens, 1 Elite Eight, 1 Champions League, 1 FA Cup, Curtis Martin, Larry Fitzgerald, many others. And someday the Pirates will get to .500 and all of Pittsburgh will go nuts.
I think a reasonable standard of expectation for a fan is for one's teams to be in the hunt, in any given year. Nothing more, nothing less. All the crazies who expect a title every single season can stay in Lexington or Tuscaloosa or the Bronx.
In any given year, I expect that the Steelers will win 10+ games and have a shot at the Superbowl. I expect the Penguins to make the NHL playoffs and have a shot at the Stanley Cup. I expect that Pitt basketball will make the Field of 65 and have a shot to make a run to the Final Four. I expect Liverpool FC to contend for the Premiership, Champions League, and/or FA Cup titles. Eventually, I would like to expect that Pitt football will win 8-9 games in most years and once every few years when the pieces fall into place, they should contend for a national title.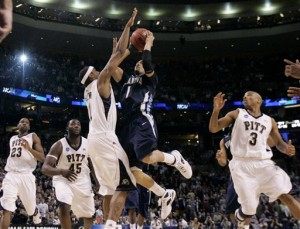 But even with what I believe are reasonable expectations, you inevitably get heart-breaking losses. I don't have to tell you which loss I'm "mourning" today. I would have to say that Pitt's loss to Villanova ranks second only to Francisco Cabrera's single for Atlanta vs the Pirates in the 1992 NLCS. Even the Penguins recovered from David Volek. The Pirates have never recovered from that loss.
Pitt basketball is a strong program and they'll rebound, rebuild and contend again. I know we had a successful season. I'm proud of how they battled and banged with the big boys. We'll be back. I expect it.