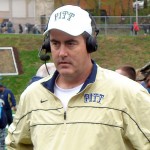 So, Pitt football is about to be left at the altar again. Another coach absconding away to his dream job. This time, at least, it's hard to fault the guy for leaving. Paul Chryst grew up in Madison, played at Wisconsin, coached at Wisconsin and still has family in Madison. And I honestly believe that it's the only job for which he would have left Pitt.
It's been written much lately that Pitt football is a steppingstone job. This is true. That Chryst is leaving for his dream job. This is true. That Wisconsin is a better program than Pitt. This last assertion is, I think, also true.
But why? Why is Wisconsin a better program than Pitt? It comes, as it always does, to two factors. The first is coaching. Barry Alvarez, who it should be noted is from western PA, turned Wisconsin into a better program than Pitt. It's one of the best non-blueblood programs in the country. But prior to Alvarez's stint at the helm of Wisconsin, the Badgers were pretty abysmal. From UWBadgers.com:
When Alvarez arrived in Madison in 1990, Wisconsin had compiled a 9-36 record during the previous four seasons and attendance at Camp Randall Stadium had dipped to an average of 41,734 per game (54 percent of capacity).
Additionally, Wisconsin hadn't been to a bowl game in the 6 years prior and hadn't played in the Rose Bowl since 1962. Alvarez changed everything in Madison. He went 118-73-4 as head coach of Wisconsin, winning 3 Big Ten and Rose Bowl titles. Camp Randall Stadium sells out regularly and is considered one of the toughest venues in the Big Ten.
Continue reading »