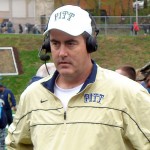 "Pitt" – it's a noun, an adjective and a verb. It describes the football or basketball teams' propensity for finding a way to mess up in a truly heart-breaking fashion. It's not exactly choking, though that's part of it. It's finding a way to give fans hope and then failing to finish off an opponent in such a way as to engender crying while having a heart attack.
For instance, last year's game versus Notre Dame. Pitt nearly upset Notre Dame a year ago, blowing a 14-point fourth-quarter lead in South Bend then allowing the Fighting Irish to escape in triple overtime, a victory that kept Notre Dame's perfect regular season alive. Not only did Pitt lose that game in truly Pitt fashion, but it led to a chain of events that forced the country to watch Notre Dame 'compete' for the national title. Seriously, America, we still apologize for not beating ND last year.
This year, Pitt has had a number of close losses. Some have been straight choking dogs, like the losses to Virginia Tech and Georgia Tech, where Pitt couldn't do a thing all game and just got beat. That's not pulling a Pitt, strictly speaking. That's just incompetence. The losses to FSU and Miami were just straight up beats. To pull a Pitt, the team has to show life, give hope and then find a craptacular way to crap it all away. (And yes, using crap consecutively was necessary).