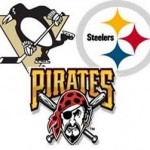 I consider myself a lucky sports fan. At least I'm not a Cleveland sports fan. I can find hope without looking too hard. BUT! C'mon, everyone wants some of their teams to do better. So here's a short wishlist for my pro teams and pro-sports in general in 2015 (in no particular order).
Steelers
Upgraded Secondary. The defensive secondary has played particularly well the past couple weeks but there's no doubt that these guys aren't suited to being long-term front-line players. Will Allen, William Gay, Brice McCain and Antwon Blake have played above their pay grade. It is highly, highly unlikely though perhaps not impossible that McCain and Blake could become front-line players. Still, with the withering of Ike Taylor and the failures of extending Cortez Allen and signing Mike Mitchell, the secondary needs a huge infusion of new talent.
A Dignified Exit for Troy Polamalu. There was significant debate on 93.7 The Fan last night as to whether Troy should even play at the expense of a roster spot for a special teams player, let alone start against Baltimore. Troy's jersey was the first I ever bought so I don't like the thought of the end of his career. I would give him a spot for the Baltimore game, not start him, and substitute him into certain packages. And then I hope he retires at the end of the season (mmm… hopefully after holding aloft another Vince Lombardi Trophy?).
The Return of Linebacker Nation. A 3-4 defense is not supposed to have an Defensive End tie or lead the team in sacks. Cam Heyward has fast become an exceptional player and the emergence of Stephon Tuitt bodes well for the future as well but this defense is predicated on getting pressure from its linebackers. Jason Worilds is almost certainly gone after the season; his price tag will be too high after recording a colossal 7.5 regular season sacks. Vince Williams and Arthur Moats are good depth guys but Ryan Shazier and Jarvis Jones absolutely must pick up the slack in seasons to come.
Penguins
Health. Every team suffers injuries but between career and life threatening injuries, cancer and the mumps, this team has had way too many kids called up from the Baby Penguins farm team this season.
Earn that Cash. Franchise players are paid the big bucks to show up in critical high-pressure situations. Management did a good job of adding toughness and grit to the team this off-season. But Sidney Crosby, Evgeni Malkin and Marc-Andre Fleury cannot go another playoffs without playing to their potential in the highest pressure games. If Fleury plays well, so too must Sid & Geno. If Geno plays well, so too must Fleury and Sid. This isn't the most stacked team the Penguins have had but they are a team that can win a Stanley Cup.
More Noise!! It's been said that Penguins crowds haven't been as animated since the move to the Consol Energy Center as they were in the old Civic/Mellon Arena. Part of that may be to do with the new building's acoustics and part of that may be more expensive tickets pricing out the (increasingly eviscerated) proletariat. In England, the landed gentry who can afford futbol games and aren't loud or involved are called the Prawn Sandwich Brigade. I tend to think the CEC crowds still do get pretty loud but not for as long as they might have done in the olden years. Or perhaps I'm getting old and you should stay the hillel off my lawn.