As the college basketball season draws to a close, the coaching carousel has started to spin, as it always does this time of year. Jamie Dixon has been rumored to leave Pitt for a few years now; whether it was when USC a few years ago or now that Arizona is searching. I don't think he'll leave… for now.
John Calipari is leaving a pretty good situation at Memphis for the University of Kentucky. Tim Floyd turned down Arizona to stay at USC. Mike Anderson is staying at Missouri after getting a hefty pay raise and who knows what Mark Few at Gonzaga will do.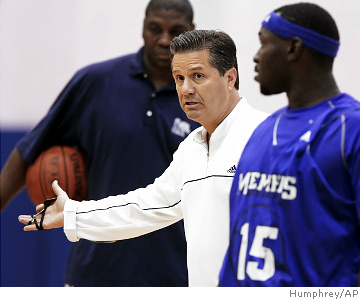 Some programs are defined by one great coach. Arizona is considered one of the better jobs in the country because Lute Olson made it that way. Likewise,  Jim Calhoun at UConn and Mike Krzyzewski at Duke define their institutions. 
Other great programs define their coaches. Ben Howland at UCLA, Roy Williams at UNC and now John Calipari at Kentucky are just another few names in the long list of winners at their schools. Great though they may be, the institutions are the big schtick, not the coaches.
Money aside, I often wonder why rebuilding a program seems more attractive to a coach than creating his own legacy. Kentucky's tradition may be greater than most programs in the country but once you reach a certain level, the infrastructure is the same. If we take long-term legacy into account, who's to say that Memphis under Calipari couldn't have become the next UConn.
I, for one, think Jamie Dixon could become the icon of Pitt basketball. He could be the one to make it a destination job. Laugh if you will but there was no predetermination that schools such as Kansas or Indiana would become college basketball royalty. College basketball is slightly different from college football in that you don't need a fertile recruting backyard to be successful. Duke had ZERO players from North Carolina on its roster. Of those 14 players, only two were from the same home state.
I don't think anyone would fault Calipari for taking the enormous pay raise he got from Kentucky. I think he is poised to become the next great Wildcats coach and will rule the SEC for years to come. But if he had been offered "only" $1 million more, would it have been prudent to leave a program he was already building into a dominant force. We will never know.