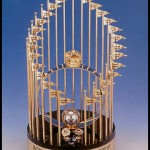 I have a question for all the Pittsburgh Pirates fans who have gone apoplectic during this most recent roster purge – what else do you want? What alternative are you looking for?
Even with the most productive outfield in baseball last season including a surprising campaign from Nate McLouth, even with a recent batting champion in Freddy Sanchez and a rock solid defensive shortstop in Jack Wilson, the Pirates went 67-95. Prior to the start of this fire sale, there were two possible courses of action – keep the batting lineup intact and try to build the pitching up quickly through free agency. Or tear it all down. Completely.
I don't understand how we as fans can get attached to any players on a team that pretty much stunk anyway. I do have my doubts as to owner Bob Nutting's commitment to winning but I think that critique is separate from a critique of the plan, which is the same as any small-market franchise must undertake. Build up the farm system, draft solid, develop prospects. Sure we've heard this song and dance before but what's the alternative?
Barring abandoning the team, a Pirates fan has no choice but to stomach another rebuilding job. It's sickening that we have to endure another one; that all the others have been so unsuccessful. However, I don't believe that voting disapproval with one's wallet is an effective strategy. With a decrease in ticket sales and thus less revenue, ownership would simply lower payroll even further and still pocket profits from revenue sharing.
I'm not willing to declare any belief that this particular rebuilding plan will work when all the others haven't worked. But it's still the right way to go about business. Tear down the half-assed incarnation of the last rebuilding job, build organizational depth, develop players. And with all the recent criticism (however deserved) and declarations from fans that the franchise doesn't deserve our support, I find myself becoming somewhat defiant.
Someday, we will all bear witness to the rebirth of one of the great franchises in Major League Baseball. Remember where you were and what attitude you took during this trying time. LET'S GO BUCS!
Photo Credit: AP