… or How to Silence Orrin Hatch
The more I think about it, the more I'm convinced that the Big Ten will take Mizzou if they fail to land Texas. Mizzou isn't a slam-dunk addition like Texas but it does meet the Big Ten's academic requirements and it's a large flagship school which brings the St. Louis and KC markets into the Big Ten footprint. The other major candidate, Pitt, clinches the rest of the Pittsburgh market and brings a decent added presence in the northeast but PSU already has strong market coverage in the northeast. Forget about Syracuse and Rutgers, which don't guarantee NYC, which is a Pro town anyway. And Nebraska and OU don't add enough market presence.
Let's also think about the musical chairs in a collective sense. If the Big Ten took Pitt (or Syracuse or Rutgers), it could very well wreck the Big East as a football conference. What people fail to take into account when criticizing the Big East's BCS status (which btw we've quite well enough to maintain our standing) is that it is to the BCS' advantage to have the Big East included. Politically, you can't shut out that many northeastern FBS schools, especially tradition-rich schools like Pitt, WVU and Syracuse as well as up-and-comers like Rutgers and UConn. You want a slight majority of FBS universities in the BCS; thus, the less likely it is to fall prey to anti-trust action. That's not an argument for the BCS to expand by adding the MWC – that would be overkill. But just a few more teams will suffice.
Let's follow the dominoes:
1) Big Ten takes Mizzou from the Big XII.
2) PAC-10 takes Colorado and Utah from the Big XII and MWC, respectively.
3) Big XII takes TCU and BYU from the MWC to fill the gaps left by Colorado's & Mizzou's departures.
Bam, there go the three strongest long-term football-playing institutions. Senator Orrin Hatch (R-Utah) will shut up about a playoff once his state's two biggest schools are part of the big dawg's club. TCU is currently the strongest school in Texas that's not in a BCS conference. The lone wolf left out in the cold is Boise State, which I'm convinced will fall into disrepair anyway in a few years once Chris Peterson leaves. In fact, I'd posit that Boise State not getting into a BCS conference will hasten his departure and Boise State's demise. Plus, Idaho doesn't have enough political clout to bring down the BCS; the Mormon state is the key because they have two strong FBS schools.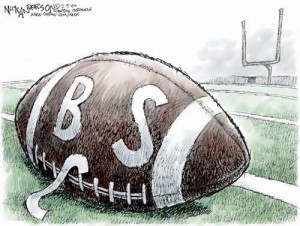 The paths of BCS teams leaving one conference or another is irrelevant. Texas to the Big Ten or PAC-10 – Texas A&M following big-brother Texas or not – Colorado leaving for the PAC-10 – Mizzou going to the Big Ten – all that matters is to make just enough room for BYU, Utah and TCU to move up. (Personally, I feel that Houston is a stronger long-term prospect than TCU because of enrollment and potential market size but they're only just starting their revival under Kevin Sumlin, who may leave soon anyway. But I digress…)
The end result is that the gravy train is expanded just a smidge to include a couple relatively deserving FBS schools (as compared to the likes of Wazzu & Miss St, at least) and the BCS rolls on, still scorned but stronger than ever. A plus-one/four-team playoff may eventually happen but it'll never get larger than that.
Shellfishly, us old-time northeasterners want the Keystone State rivalry to be renewed, which drives a lot of people around here who want Pitt in the Big Ten. Fair enough, but if FSU/UF and UGA/GT can play OOC every year, the same can happen for Pitt/Pennstate. We just need some time for JoePa to finally retire and then a couple years afterwards for scheduling to get worked out. It will happen by the latter half of the decade. Patience, my friends, patience.
In the meantime, remember that moreso than cultural or historical fit, conference expansion is about market size, market size, market size.