Since SMU football received the NCAA Death Penalty, there's been a saying in college sports that any time an Alabama or a Kentucky commits major violations, an East Tennessee State or a Montana will get slapped with NCAA sanctions.
MST has learned that the NCAA has indeed levied sanctions against Miami University of Ohio in order see that justice be done in the case of Ohio State head coach Jim Tressel lying about his knowledge of "Tattoo Gate". In an ingenious twist, the NCAA will use time travel, not to levy actual sanctions against the University, but will instead seek to sully and damage the school's reputation. Actual far-reaching sanctions, as we all know, are not what the NCAA is all about.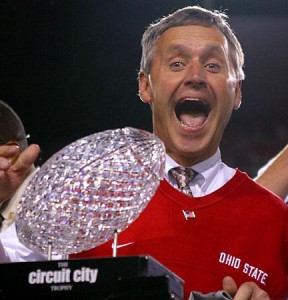 By "arranging" for the University of Pittsburgh to hire away then-rising star Mike Haywood as its head coach while simultaneously trumping up charges of domestic battery against Haywood, Miami(OH)'s vaunted reputation as a cradle of coaches will be sullied and Haywood's career ruined. The Redhawks are left wondering what might have happened had Haywood had not left Oxford, Ohio. In addition, a joint sting operation between the NFL and NCAA will see to it that the (already sketchy) reputation of Steelers QB and Miami of Ohio product Ben Roethlisberger is battered to pieces by allegations of sexual misconduct.
Now you're probably wondering why the NCAA wouldn't just 'let' Haywood stay at Miami(OH) and then humiliate the school with his scandal. But that would be a logical move. And we're talking about THE FUCKING NCAA, HERE!!