ESPN.com reports that Rick Pitino may be interested in the Sacramento Kings head coaching job. Having largely failed in two previous stints in the Ligg, Pitino's outsized ego may push him to give the NBA another shot in order to prove that he has what it takes to succeed on both levels, ala Larry Brown.
With the exception of the aforementioned Brown, few successful college coaches, football or baskeball, seem to prosper in the Pro's. Tim Floyd, Nick Saban and Mike Montgomery easily come to mind. Pitino's new nemesis at Kentucky, John Calipari wasn't successful in the Pro's.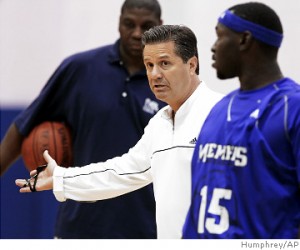 On the other hand, Bill Callahan failed miserably at Nebraska. Charlie Weis has yet to deliver at Notre Dame. Al Groh chose to go back to UVA rather than coach the New York Jets and although his record in Charlottesville is admirable, it's not particularly elite.
In college, you have to schmooze alumni and boosters. You have to raise money for the athletic department. You need to court 18-year (oft-spoiled) superstar children who have never heard a bad word about their games. You have to graduate players. You are the face of a program, much moreso than in the Pro's.
In the Pro's, you have greater access to your players but have to deal with egos made larger by huge, sometimes unwarranted, contacts. You have to assist a general manager with navigating a salary cap/luxury tax. The season is longer.
Perhaps it takes failing like Steve Spurrier did with the Redskins for a coach to realize that he is better suited to one game or the other. I think Pitino is better suited for the college game. He's a master at it.
I would posit that coaching in the Pro's isn't inherently more difficult; it's just a different game. It's not as if the salaries are markedly different. Phil Jackson, for instance, is a master at the Pro game. I don't think he would be comfortable in college. But for some reason, we in this society equate the Pro's with the pinnacle in all aspects. Becoming a Pro may be the ultimate goal for an athlete but it shouldn't necessarily be the case for a coach.