So the Anaheim Ducks knocked the top-seeded San Jose Sharks out of the Stanley Cup playoffs last night. And the walls came tumbling down! As if. This can't be a surprise to anyone who knows anything about the NHL.
It doesn't really matter that the Sharks won the President's Trophy. It doesn't matter that they were playing a #8 seed. What matters is that these are Joe Thornton's San Jose Sharks, the biggest chokers in recent memory. This is a franchise that hasn't advanced past the second round since 2004, despite being one of the NHL's best in the regular season in recent years.
Leave it to Joe Thornton to make a Flyers' sized mistake by fighting Ryan Getzlaf at the start of Game 7. Just perfect, Joseph. Give the underrated Ducks a psychological boost.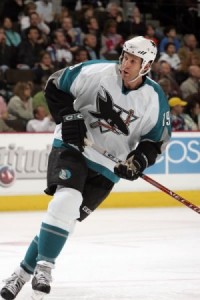 I'm not trying to take anything away from the Ducks who persevered and ultimately triumphed. They deserved everything for which they fought. Perhaps the Sharks' fate would have been different had they not drawn a team only two years removed from winning the Stanley Cup. But I doubt it.
Photo Credit: hockeydraft.ca