I think Penguins' victory over the Red Wings in the Stanley Cup Finals is one of the most underrated upsets in recent memory. For all the skills of Sidney Crosby, Evgeni Malkin, Jordan Staal and Marc-Andre Fleury (and apparently Max Talbot as well), the Red Wings were so much deeper and more experienced than the Penguins.
Let's compare the players by position for Detroit to those of Pittsburgh.
Red Wings
Penguins

Centers

Pavel Datsyuk
Sidney Crosby
Henrik Zetterberg
Evgeni Malkin
Valtteri Filppula
Jordan Staal
Darren Helm
Tyler Kennedy
Kris Draper
Max Talbot

Left Wingers

Johan Franzen
Ruslan Fedotenko
Jiri Hudler
Chris Kunitz
Tomas Kopecky
Matt Cooke
Ville Leino
Pascal Dupuis

Right Wingers

Dan Cleary
Bill Guerin
Marian Hossa
Miroslav Satan
Mikael Samuelsson
Petr Sykora
Tomas Holmstrom
Craig Adams
Kirk Maltby
Eric Godard

Defensemen

Nicklas Lidstrom
Sergei Gonchar
Niklas Kronwall
Kris Letang
Brian Rafalaski
Brook Orpik
Brad Stuart
Rob Scuderi
Jonathan Ericcson
Mark Eaton
Brett Lebda
Hall Gill
Andreas Lilja
Philippe Boucher

Goalies

Chris Osgood
Marc-Andre Fleury
To me, it's evident that the Red Wings are deeper and have greater overall skill than the Penguins. I don't believe for a second that Pittsburgh wanted it more than Detroit. Perhaps age had to do with something to do with it but Detroit surely didn't look old in winning 3 games at home.
I'm searching for some type of comparison to fully highly the magnitude of this upset. It's not quite Giants over Patriots in the Superbowl but it's not far off. While the Red Wings weren't as dominant as that Patriots team, they have been the class of the NHL for the better part of the past decade. They have won in all aspects of the game – execution, timing, skill, talent, depth, money, coaching and scouting. And unlike New England – class as well.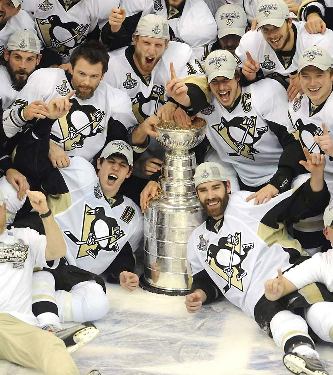 The Penguins chipped the puck in behind the goal continuously. They played possession as much as possible. They threw the puck at Chris Osgood at every chance. They stood toe-to-toe with one of the top 2-3 finest organizations in sports and didn't back down.
Bottomline: The Penguins outworked a team with superior depth of talent.