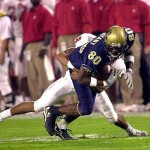 Or… Happy NLI Day!
College football fans are undoubtedly still basking in the glow of National Letter of Intent Day. Wherein they celebrate recruiting classes sure to lift them to the promised land.
People get bent out of shape over recruits, recruiting wars, verbal commitments, recruiting rankings; both pro and con. My belief is that they matter only insofar as there must be a great developmental and game-day coach behind them. It doesn't matter that Charlie Weis pulled in Top-10 classes at Notre Dame; he just isn't a good head coach. But put those same classes in the hands of Nick Saban or Urban Meyer and the team will excel to a much greater degree with those same kids.
On the flip side, statistics mean nothing to the individual. That's why it's not hard at all to point to players who weren't highly-ranked who went on to great college success. Antonio Bryant was a 1-star recruit out of high school. Pitt offered him at the last minute and his only other offer was from Louisville. He won the Biletnikoff Award at Pitt and might have won two if not for an injury in his last season.
Jimbo Fisher could probably still succeed with a mid or lower-ranked class but his margin for error is greater; he would have to coach 'em up or scheme 'em up to a much larger degree. It's my hope that Paul Chryst will get results with the classes he's signed at Pitt. And success will in turn lead to better classes, which creates a self-perpetuating cycle. Ultimately, a highly-ranked class is a predictor that a great coach can/will have great results.
Let's put it this way. There's a great quote in the old sitcom Scrubs wherein Dr. Cox talks about the relationship between statistics and patient outcomes:
"Statistics? Statistics? Statistics mean nothing newbie. As doctors, we know that people diagnosed with pancreatic cancer have an 85% death rate within five years, whereas people having an appendectomy have a 95% survival rating, but we both know pancreatic cancer sufferers who are still alive and appendicitis patients who didn't make it. Statistics mean nothing to the individual. Not a damn thing."
No, I'm not trying to equate death rates with recruiting rankings. The point is not even that the statistics (death rates or recruiting rankings) don't matter at all. In the aggregate, from a macro view, they do matter because they help us make predictions about whole populations. But when applied on a micro-level, they don't matter.
From a micro-level, it didn't matter to Antonio Bryant that he was a 1-star recruit; he still went on to become a great college football player. He won the Biltnikoff Award, was named First-Team All-Big East twice and a consensus All-American once. Pitt managed to go 2-1 vs WVU, 1-1 vs Pennstate, knocked Virginia Tech out of the national title race, won the last game at Pitt stadium vs Notre Dame and won the 2000 Tangerine Bowl over the terminally overrated Philip Rivers at NC State with Bryant picking up MVP honors.
But from a macro-viewpoint, Pitt didn't have top-10 recruiting classes during Antonio Bryant's time. And Head Coach Walt Harris probably got the most out of those players as the Panthers went 5-6, 7-5 and 7-5.