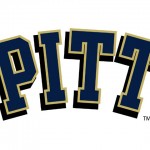 Inspired by Drew Magary's NFL preview series, Why Your Team Sucks on Deadspin, I decided to do a little of the same on the college side. This is the second in the series. Click here to learn why WVU sucks.
Some people are fans of the Pitt Panthers. But many, many more people are NOT fans of the Pitt Panthers or don't really give a shit about them. This preview is for those in the latter group.
Your Team: University of Pittsburgh Panthers
Your 2013-2014 record: 7-6 with a bowl win over Bowling Green. The Pitt-est of Pitt records.
Your Coach: Paul "Neat" Chryst, an affable young gentleman who was initially passed over for Todd Graham and then Mike Haywood, the Ray Rice of college coaches. At least Pitt had the sense to can Haywood the minute he gave them an opportunity. Talk about a case of buyer's remorse.
Chryst is a "neat" guy, as in he says "neat" a lot. A grown man who says, "neat". Can't you just hear the awww's coming. This is a guy who's so nice and affable that you're alternately rooting for him to win because you believe he'd do it the 'right way' and fearing some news story will drop showing him kicking a 5-year old birthday boy's new puppy while drinking too much Scotch "neat".
Your Quarterback: Redshirt sophomore Chad Voytik, who provides the greatest proof ever of both the vulnerability and stupidity of 17 year old boys, as well as their immediate ability to redeem themselves. Voytik was a Todd Graham recruit. He bought that fucking used-car sleazebag salesman's pitch. He committed 4-5 years of his life to studying under the tutelage of a man who makes Lane Kiffin look like a priest. BUT! He stuck with Pitt after Graham absconded. Three years later, he's ready to man the helm at Pitt. Teenagers, sheesh.
What's New that Sucks: Pitt returns a defensive line minus Aaron Donald who only managed to be named ACC Defensive Player of the Year, a unanimous All-American and win Lombardi Award, Bronko Nagurski Trophy, Chuck Bednarik Award and the Outland Trophy. Donald even blocked a kick! Minus Aaron Donald, Pitt's defensive line had 4.5 sacks and no forced fumbles. All season.
Defensive Coordinator Matt House is back for his second season but it might as well be his first for all the skepticism he inspires. No one knows why he's back. In fact, no one knows how he landed the job in the first place. Maybe Chryst thinks he's neat.
What Has Always Sucked: Backward-looking, slack-jawed Pitt fans who can do nothing but complain that Pitt stadium was torn down, that the Script Pitt was changed, that attendance isn't good enough, that Pitt doesn't get every.single.local.recruit, that there isn't enough local coverage of Pitt, that Steve Pederson is still on the job… that… that. News-flash, you jagoffs who drag down the school's academic reputation – Pitt stadium was a decrepit hole, the Pitt Script will not suddenly rejuvenate the program, Pitt never kept every single recruit in town and there's plenty of coverage of the team.
If you win enough, the casual fans will fill up the stadium just like at any other city school, the news coverage will be more positive, Pitt will keep more local recruits and we'd have better things to talk about than Steve Pederson. And besides, Pederson doesn't wear a ridiculous bowtie like Gordon Gee and make statements about the coach being allowed to fire him. (Aside: I love bowties but Gee can't pull it off).
What Might Not Suck: Tyler Boyd and the run game. Barring injury, Tyler Boyd will probably contend for the Biletnikoff Award, if not win it this year or next. It's our birthright, damnit. Listen, Pitt can churn out wide receivers and running backs. Pitt wideouts have won two Biletnikoff trophies and Larry Fitzgerald should've won the damn Heisman Trophy! (Maybe Fitzgerald can hook Jason White up with scholarship for a Master's Degree at the University of Phoenix so he can move up the chain at McDonald's seeing as how he's obviously not putting his OU degree to proper use. And don't let Wikipedia fool you, we all know White's not a business owner, he's a fry cook at a fucking McDonald's. Just fries. And he probably calls them Freedom Fries.)
Where was I? Oh right, the running game. Behold, James Conner. And considering that Pitt gave the NFL Marshall Goldberg, Tony Dorsett, Ironhead Heyward, Curtis Martin and now LeSean McCoy, it's a marriage made in the trenches. In an age of exciting, innovative offenses, Chryst is attempting to build a less midwesterny version of Wisconsin.  That ought to make the Yinzers who wish the Stillers would run da bawl some more n'@ happy.
Also this never gets old: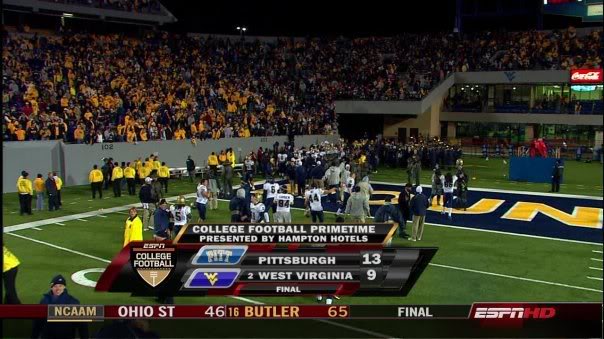 Previous entries: Why Your CFB Team Sucks – West Virginia Mountaineers