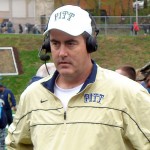 So, Pitt football is about to be left at the altar again. Another coach absconding away to his dream job. This time, at least, it's hard to fault the guy for leaving. Paul Chryst grew up in Madison, played at Wisconsin, coached at Wisconsin and still has family in Madison. And I honestly believe that it's the only job for which he would have left Pitt.
It's been written much lately that Pitt football is a steppingstone job. This is true. That Chryst is leaving for his dream job. This is true. That Wisconsin is a better program than Pitt. This last assertion is, I think, also true.
But why? Why is Wisconsin a better program than Pitt? It comes, as it always does, to two factors. The first is coaching. Barry Alvarez, who it should be noted is from western PA, turned Wisconsin into a better program than Pitt. It's one of the best non-blueblood programs in the country. But prior to Alvarez's stint at the helm of Wisconsin, the Badgers were pretty abysmal. From UWBadgers.com:
When Alvarez arrived in Madison in 1990, Wisconsin had compiled a 9-36 record during the previous four seasons and attendance at Camp Randall Stadium had dipped to an average of 41,734 per game (54 percent of capacity).
Additionally, Wisconsin hadn't been to a bowl game in the 6 years prior and hadn't played in the Rose Bowl since 1962. Alvarez changed everything in Madison. He went 118-73-4 as head coach of Wisconsin, winning 3 Big Ten and Rose Bowl titles. Camp Randall Stadium sells out regularly and is considered one of the toughest venues in the Big Ten.
The second factor is money. Pitt has traditionally been tightfisted with respect to paying coach's salaries. The administration refused to pay Jackie Sherrill and the program hasn't been the same since he left for Texas A&M. With money coming in from the ACC's coffers, salaries shouldn't be much of a factor anymore. It's been reported that Pitt's new chancellor, Patrick Gallagher, is ready to open up the wallet. This doesn't mean that Pitt will start shelling out $5 million+ for salaries. But $2-3mil for the head coach and just paying the going rates for assistants would be a huge improvement.
Neither of these criteria are insurmountable institutionally. Neither are factors in which Pitt can't catch up to the likes of Wisconsin.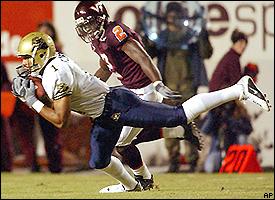 I don't expect Pitt to become a national power again. The university has some unique challenges, playing in a pro-sports oriented city and not having an on-campus stadium. But even so, if Pitt brings in the right coach and pays him and his assistants good money, there's no reason that the program can't get itself into the Top 25 on a fairly regular basis and consistently contend for the ACC's Coastal Division title.  That coach may very well leave after achieving such success but if he leaves the program in better shape, I won't mind.
Pitt is not without its advantages. Western PA, while not as fertile as it once was, is still a strong recruiting backyard. Pitt can reach west into Ohio, east into the Philly/NJ/NY area and south to Virginia and NC for recruits as well as dipping into Florida occasionally. They'll have to battle in all these areas but that's always been the case. Lastly, Pitt has a strong history of producing excellent NFL talent. Few schools can boast of a better quartet of NFL players than former Pitt players LeSean McCoy, Larry Fitzgerald, Darrelle Revis and Aaron Donald. And if the program can win on a regular basis, Heinz Field will produce a great atmosphere.
Virginia Tech's head coach, Frank Beamer, who revived what was a moribund program and turned it into a regular contender, once said that he wanted to build a program that graduated its players while averaging 8-9 wins (this was back in the days of an 11-game schedule so I think the goal would be 9-10 wins now), going to a bowl every season and once every 4-6 years when the chips fell just right, contend for the top 10 or a national title. I don't think that's out of Pitt's reach either.
Related Articles
College Football's Institutional Advantages and Disadvantages
College Football's Institutional Advantages and Disadvantages, Part II