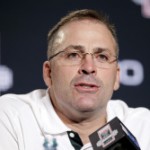 Michigan State defensive coordinator Pat Narduzzi will be officially unveiled as Pitt's new head coach today. As the media and Friends of Tom Bradley like to point out, he will be the 10 millionth head coach at Pitt since Dave Wannstedt was tarred, feathered and run out of town on rails fired for being a coach-on-the-decline whose only major strengths included a Yinzer accent and a fantastic mustache.
Mike Haywood lasted a couple weeks. Toddy Graham spent one season at Pitt selling used cars with no engines and ripping on his quarterback before he absconded in the middle of the night, not unlike the Baltimore Colts. Paul Chryst left after three mostly uninspiring seasons to take over at that most Shangri-La of schools, Wisconsin.
I get it… Pitt hasn't had true stability for a long time. And here comes Pat Narduzzi, a long-time defensive coordinator who passed over other head coaching jobs to come to Pitt. We are perpetually losing head coaches. The most common joke I've heard on the radio or read in comments sections (yes I should stop reading comments sections) is that Pitt has turned into a coaching internship, a way-station where younglings bide their time until getting called home (or where they apparently have family in the area).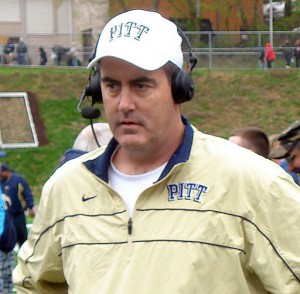 That Narduzzi will do the same – leave in 2-4 years, whether back to Michigan State or to some other school with deeper pockets and a stadium that's more than half full. What's the alternative for Pitt?
Tom Bradley? Sal Sunseri? Bill Cherpak? Seriously, don't make me laugh. Pitt fans don't laugh. We chuckle ruefully.
Doc Holliday? An interesting case. Apparently he hates his alma mater West Virginia for passing him over for their head coaching position. BIG plus there! And he's a stellar recruiter, unlike Chryst who seemed to be allergic to pressing the flesh, at least on the defensive side. But as I pointed out to a friend today, WVU AD Oliver Luck is leaving Morgantown for greener pastures so he won't be the one hiring the next Mountaineers head coach after Holgorsen inevitably leaves for a bigger job… wait, there are other schools that lose coaches?! Blasphemy! say the Media Friends of Tom Bradley… or decides he'd rather waste away in Margaritaville. Plus Holliday coached in the South for a while so who's to say he wouldn't be tempted if an SEC school comes calling.
My point is that head coaches are always looking for the next gig. Even when he was dominating at Florida, there was speculation about Urban Meyer going to Notre Dame or Ohio State. Oops, he's at Ohio State now? Once upon a time, Nick Saban left LSU for the NFL. After flaming out there, there's no way he's fully given up the thought of trying once again. Pete Carroll probably would've been sanctioned by the NCAA, yes, but it was just a matter of time before left USC for the NFL anyway. Chip Kelly left one of the richest schools in the country to go to the NFL as well. And Bill O'Brien left Penn State for the NFL.
Additionally, Pitt's successful history with head coaches belies the idea that one needs to have been a prior head coach to be successful in Oakland. Or even needs to stay a long time. Johnny Majors was 24-30-1 at Iowa State before coming to Pitt. Jackie Sherrill had a few years as a defensive coordinator and one 3-8 season at Oregon State before coming (back) to Pitt. Walt Harris had only been a quarterbacks coach at Ohio State and Dave Wannstedt had no college head coaching experience and had flamed out at two NFL jobs before he crawled back to his alma mater. For all that Wannstedt is lionized by some Pitt fans for his love of the university, it should be remembered that he would never have taken the Pitt job if not for the fact that he got fired by the Miami Dolphins.
It's been speculated that Narduzzi truly views Pitt as a destination job. That he wouldn't be likely to leave and made sure that Pitt was upping the ante financially (his salary, assistants' salaries, facilities, etc) before taking the gig. That new Pitt BAMF Chancellor Patrick Gallagher is finally ready to commit Pitt, financially and institutionally, to football excellence. That although Narduzzi coached at MSU, he's not an alum and so wouldn't jump at the first (or second) chance to go back like Chryst did with Wisconsin.
All that may be true. Or it may be hogwash and he's gone in a few years. And none of this is to say that Narduzzi will be a smashing success or an abject failure. From what I've read and seen, he's an enthusiastic recruiter, unlike Chryst, and he's energetic and brash without coming off as sleazy, unlike Graham. I can only say that I'm more excited for Pat Narduzzi to come to Pitt than I was for Chryst. Hail to Pitt.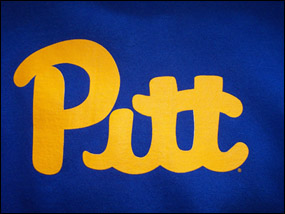 Related Articles
Can Pitt Football Become a Wisconsin Michigan State
Pitt's Ability to Compete in the ACC
Bill O'Brien to Usher Penn State into the Club of Ordinary Programs
Photo Credit: AP/Jae C. Hong