Last summer was a very family-oriented affair for me. My sister gave birth to fraternal twins. I attended three weddings and a bachelor party. Needless to say, my wallet is still on fire with all the travel and gift costs. But I couldn't be happier for my sister expanding her quixotic little family and for my friends who got hitched.
Life is such a temporal construct, a walking shadow that struts and frets his hour upon the stage. And then is heard no more. It only makes sense that people meet, get married, have children. In pumping up his troops at the beginning of Gladiator, Russell Crowe's character utters the line – "What we do here echoes in eternity." If ever anything were to echo in eternity, it is this circle of life – raising little children things, contributing to the teeming masses. Yet, procreation is also just a primal instinct, one we share with the basest of life forms. It's not exactly… sentient.
Eternity remembers armies, events and only the most singular of individuals. And so I wonder about the nature of passion and ambition, as it relates to work. In most of our endeavors, the individual gets lost in the mists of time. So if you have the choice, why choose one vocation over another. Why give a  sh*t over one endeavor or another.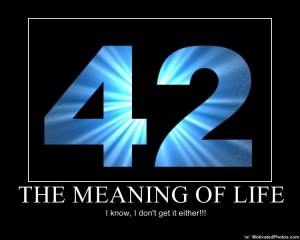 I work hard at my job and I find it challenging enough. I want to become a better Project Manager and so I know I need to develop better PM skills. But I have no illusions as to the whether future generations will remember me personally. Certainly not my work. I'll get lost in the mists of time and be consigned to the back pages of history (if that).
In the absence of a life filled with great and terrible things, sure as anything, I won't look back on my life and tell stories of studying for the PMP or working my way into middle or upper management. But working hard enough that I can take fun vacations and talk to interesting people outside the office, yeah I can get behind that.
I'll allow that it is certainly #firstworldproblems to ponder the worth of work from an atomistic viewpoint. Most people on this planet work at anything they can do simply to survive. The garment worker or rickshawalla in Bangladesh probably aren't considering their place in history; they just want to eat, have a roof over their heads and maybe watch some cricket and raise their children. Then again, they probably aren't all that passionate about their job either. It's a means to a very practical end.