I want to give Donald Trump a chance. I don't want to turn back the clock or rejigger the electoral college or somehow throw the nation into chaos because I didn't vote for him. I think it's important to try to differentiate the need to give President-elect Trump a chance to confound expectations, so to speak, while still continuing to oppose any divisiveness which results from this election.
To wit, Dave Chappelle had a very powerful monologue on last week's Saturday Night Live where he talked about the Trump Presidency. His concluding passage echoed a lot of what I feel:
"So in that spirit, I'm wishing Donald Trump luck. And I'm going to give him a chance. And we, the historically disenfranchised, demand that he give us a chance too."
And President-elect Trump himself did go so far as to tell his supporters to stop harassing Latinos and Muslims during an interview on 60 Minutes:
Donald Trump on Sunday told his supporters to stop harassing minorities, in his first televised sit-down interview since becoming President-elect.

"I am so saddened to hear that," Trump told CBS' Lesley Stahl on "60 Minutes" when she said Latinos and Muslims are facing harassment. "And I say, 'Stop it.' If it — if it helps, I will say this, and I will say right to the cameras: 'Stop it.'"

Trump directed his comments to his own supporters whom Stahl said have written racist slogans or chanted degrading messages — particularly in schools. It was a powerful appeal to a nation ripped apart by the divisive 2016 campaign. Trump's election has left Democrats angry and many minorities fearful about the future.
According to the Southern Poverty Law Center (SPLC), over 300 cases of hate crimes have been reported since Mr. Trump was elected. This should be a concern to anyone in this country. President-elect Trump should be commended for speaking out to his supporters and not supporting this behavior.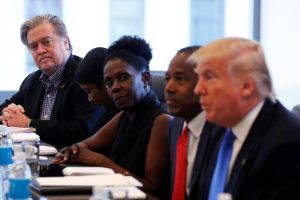 However, Mr. Trump's words are belied by his appointment of former Breitbart News CEO Steve Bannon as his Chief Strategist. Bannon has been roundly criticized for his support of the Alt-Right, a group defined by the SPLC as, "A set of far-right ideologies, groups and individuals whose core belief is that 'white identity' is under attack by multicultural forces using 'political correctness' and 'social justice' to undermine white people and 'their' civilization." For additional information on the Alt-Right, check out this link from the Anti-Defamation League.
If Trump supporters wonder why some of us struggle with the idea of embracing a President Trump, it's not simply that he has made a political living out of divisive rhetoric this campaign season. We're not worried because we suddenly discovered last Tuesday that prejudice and injustice somehow still exist in this country. It is that even when Mr. Trump ostensibly reaches out to those whom he has previously maligned, he takes several steps backward such as with his appointment of Bannon. I don't know what to make of a President who wanted to require American Muslims to register SS-style but admonished his supporters' anti-minority actions and then appointed a mouthpiece of white nationalism to be his Chief Strategist.
Comments
comments