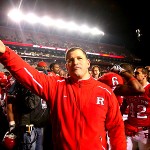 With the news coming out that head coach Greg Schiano has bolted Rutgers for the supposedly greener pastures of the NFL, the immediate concern for Scarlet Knights fans focuses on the program's future relevance. BCS concerns aside, can Rutgers continue to field even a modestly successful football program (defined here as at the very least an average of 6-8 wins/year).
The historical answer, pre-Schiano/post-1978, is a resounding no. Except for Greg Schiano, no other coach has won big at Rutgers. Except for Greg Schiano, no other coach has gotten a firm commitment (read: financial) from Rutgers' administration to field a winning big-time program.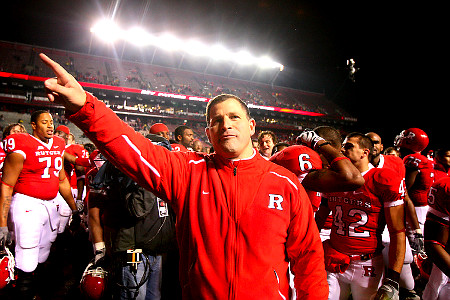 I didn't realize this but apparently Rutgers was once an academics-first/only institution. As opposed to fellow northeastern schools Pitt and Pennstate which both boast outstanding academics but also strive to run with the big boys in college football, Rutgers didn't even put itself in the game. This was the eye-opening passage for me from CFT's Matt Hinton:
Traditionally, Rutgers belongs to the class of academically oriented schools in the Northeast that disavow the corrupting influence of big-time football: Before Division I was split into "I-A" and "I-AA" classifications in 1978, its schedule consisted overwhelmingly of teams from the Ivy League and the kind of wannabe-Ivy schools that would go on to form the Patriot League — that is, second and third-rate programs that care so little about sports that most of them still don't offer athletic scholarships.
And Rutgers were mostly successful in that setting. 7, 8, 9-win seasons weren't uncommon. It was only after trying to join the big boys post-1978 that Rutgers became a laughingstock of a program. In fact, in 1976, Rutgers went 11-0… against a lineup of Navy, Bucknell, Princeton, Cornell, UConn, Lehigh, Columbia, UMass, Louisville, Tulane and Colgate. Four of those schools were non-IA. That team didn't even go to a bowl game.
By comparison, the 1976 National Champion, who went 12-0, played a schedule consisting of Notre Dame, GA Tech, Temple, Duke, Louisville, Miami-FL, Navy, Syracuse, Army, WVU and Pennstate with a Sugar Bowl win over Georgia. That team was Pitt. (Hail).
Beano Cook once wrote that if you'd asked him in the early 1970's to name the programs with the most un-tapped potential, he would have named Miami-FL (duh)… and Rutgers. The strength of northeastern teams from Pitt to Pennstate to Syracuse has often been supplanted with the fantastic talent that comes out of the Garden State. Greg Schiano tapped into that base, to a degree, and it helped him build a modestly successful program.  Whether another coach can build on that legacy or even sustain it is debatable.
My guess is that Rutgers fades into semi-irrelevance; partly by choice of not paying ridiculous huge sums to keep up with the Ohio States of the world and partly by being excluded from the big boy conferences upon the demise of the Big East.
Photo Credit: Jim McIsaac/Getty Images