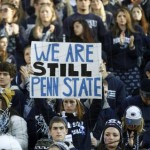 Inspired by Drew Magary's NFL preview series, Why Your Team Sucks on Deadspin, I decided to do a little of the same on the college side.
Some people are fans of the Penn State Nittany Lions. But many more people are NOT fans of the Penn State or don't really give a shit about them. This preview is for those in the latter group.
Your Team: Pennsylvania State University Nittany Lions
Your 2013-2014 record: 7-5 with no bowl game because… well, ya know.

Your Coach: James Franklin. At a time when the university needed to keep to the straight amp; narrow established by Bill O'Brien, they hired a guy with a sexual assault case hovering over his Vanderbilt program. Franklin may very well be clean but do you trust the vetting process at Penn State? No? I didn't think so.
Have you ever heard James Franklin speak? Franklin is an insanely good recruiter and may very well win a lot at Penn State. (He should win a lot at Penn State. It's Penn State for chrissake). But he sounds like the sleazeball illegitimate love-child of Les Miles & Todd Graham.
"I'll tell you what, getting off that bus with the extended tradition that we've added, walking into the stadium, I'm an emotional guy and I was fighting back my emotions the whole time," Franklin said about his first game at Beaver Stadium. "Getting a chance to see my girls as soon as I got off the bus and walking with them and watching the fans and community support these guys, it's an unbelievable experience. So I was fighting back my emotions. The sunglasses helped."
It's understandable that students or alumni would get goosebumps hearing their school's alma mater. But they're not another mercenary coach who also allegedly cried when he beat a path out of Nashville for State College. Surely, people don't still fall for this song & dance anymore, do they.
Your Quarterback: True Sophomore Christian Hackenberg. A legitimately elite recruit who somehow convinced himself that the school that gave us Todd Blackledge, Anthony "the Genius" Morelli and the Sacca brothers was the right place to hone his quarterbacking skills.
What's New that Sucks: Penn State is going into this season trying to protect its best weapon, Hackenberg, with an offensive line returning one player. Yikes.
Other than that, nothing. There's nothing new about Penn State. It's all old, all staid. This is a program and a fan base that hasn't changed one fucking bit since Rip Engle was shuffled loose the mortal coil turned over the reigns to Joe Paterno.
What Has Always Sucked: State College. It exists solely for the university. It's not a real place. If one more person tells me, "But it sure is purrdy cuntry up thurr", I might scream. Oh wait, I can scream – ARRRGGGGHHHHHHHH!!! You know what's also pretty? West Virginia, NYC's finger lakes, townies who have all their teeth and cars that don't have blue & white lion pawprints tattooed all over them. James Carville once concluded that Pennsylvania is Pittsburgh in the West, Philadelphia in the East and Alabama in the middle. Guess what lies in the exact geographic center of the Commonwealth. Continue reading »