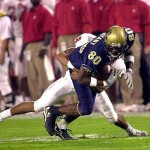 Or… Happy NLI Day!
College football fans are undoubtedly still basking in the glow of National Letter of Intent Day. Wherein they celebrate recruiting classes sure to lift them to the promised land.
People get bent out of shape over recruits, recruiting wars, verbal commitments, recruiting rankings; both pro and con. My belief is that they matter only insofar as there must be a great developmental and game-day coach behind them. It doesn't matter that Charlie Weis pulled in Top-10 classes at Notre Dame; he just isn't a good head coach. But put those same classes in the hands of Nick Saban or Urban Meyer and the team will excel to a much greater degree with those same kids.
On the flip side, statistics mean nothing to the individual. That's why it's not hard at all to point to players who weren't highly-ranked who went on to great college success. Antonio Bryant was a 1-star recruit out of high school. Pitt offered him at the last minute and his only other offer was from Louisville. He won the Biletnikoff Award at Pitt and might have won two if not for an injury in his last season.