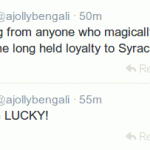 Or… Justifying Wednesday Night RAW
It's probably an understatement how raw I feel at the moment. Here's the reason. Don't make me talk about it. In fact, I think this tweet perfectly encapsulates how most people should deal with me after a close loss:
Not accepting anything from anyone who magically comes outta the woodwork to diss Pitt or claims some long held loyalty to Syracuse. #raw

— Malcolm Fitzgerald (@ajollybengali) February 13, 2014
This next tweet doesn't describe how I feel after every loss but it most certainly applies tonight. Yes it does, yes it does, yes it does.
THEY GOT FUCKING LUCKY!

— Malcolm Fitzgerald (@ajollybengali) February 13, 2014
Anyway, I know I take sports pretty seriously. It opens me up to feeling really horrible at times. It also affords me ridiculous feelings of elation and euphoria. I've said that I do consider myself a pretty lucky fan overall so I'm not lamenting my current position. Too much.
Those who understand will, even if they're on the opposite side, at least have some sympathy. However, some folks won't/don't/can't understand how or why sports can bring a person so low. The best they can do is give a jagoff like me a wide berth when I'm pissed off. But they do so shaking their heads. I don't think it's lack of empathy. Perhaps, lack of imagination. In a way, I pity them.