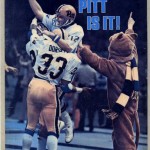 … Or On Pitt Sports Capital Priorities

There are two stories related to Pitt sports that just will never die. The first is the Pitt script logo.
The second issue that never dies is the fact that Pitt no longer has an on-campus stadium. The Pitt News reported on a group of alumni trying to drum up support for a new stadium to be located in Panther Hollow. The plan appears to reasonably well thought-out, if not a bit earnest. A couple tidbits:
Mack and Andra's plan is far from short-term. Both men consider the plan a long-term solution to Heinz Field's inevitable deterioration within 20 to 25 years. They say that Pitt needs to consider where the football team will play if the Pittsburgh Steelers decide to build their next stadium in a location outside the Pittsburgh city limits.

… In addition to a stadium that could hold from 44,000 to 50,000 people, his plan includes a dormitory built into the stadium, a track surrounding the field for the men's and women's track and field team and an area for office space.

… In order to make room for the large new complex, a number of properties in Panther Hollow between Joncaire and Boundary streets and Yarrow Way would need to be purchased. In addition, Mack said the Frick Fine Arts Building would need to be moved onto Schenley Plaza, and Mazeroski Field would be demolished, though he said the new stadium would also include a Pittsburgh Pirates museum.

… Mack said the plan includes the building of a multi-level parking garage that could hold between 1,200 and 1,500 vehicles. He also said that the Allegheny Valley Railroad could expand its commuter service operations and extend into Panther Hollow using the pre-existing railway.
Click here to read the whole Pitt news article or visit the group's site.
Continue reading »