I've written before about the importance of pedigree in college athletics, specifically in football. Historically low-grade schools can break into the high-end of the pack for a time through great coaching but most will fall back to their customary place. Because of coaching. The hot coach will eventually leave for a program that is considered to have the necessary pedigree to sustain big-time excellence. Part of that pedigree relates to greater financial resources. But it also deals with history and therefore the school's attractiveness (no, not of the co-eds).
The distinction I'm trying to make is whether a football program is defined by its coach or whether the football program defines its coach. At places like Alabama, Michigan, Ohio State, Texas and USC, the institution matters more than the coach. I won't belabor the point further; you can check out the original article.
We're now entering a couple test cases at different stages in the road.
Cincinnati and Louisville, which lost very successful head coaches in recent years, will have to prove that the program matters more than the coach. So far, not good. I should hasten to add that even a bad coach can derail a program-first school, as evidenced by the abysmal tenures of Ron Zook and Mike Shula at Florida and Alabama, respectively. No educated college football fan thinks that Michigan can't get back into the big picture if Rich Rodriguez is fired. But that question legitimately hovers over the Bearcats and Cardinals.
Louisville came within a hair of playing for the national title under Bobby Petrino after weathering the departures of program-builders Howard Schnellenberger and John L. Smith. After Petrino himself left, the hiring of Steve Kragthorpe proved to be a disaster and now the Cardinals are hoping once again to have struck it rich with Charlie Strong. I happen to think that Strong will make an excellent coach. The question is whether they'll be able to hold onto him if a big-name school comes calling. A program-first school will serve as a destination for hot head coaches, rather than having to continually hire the next up-and-coming assistant coach.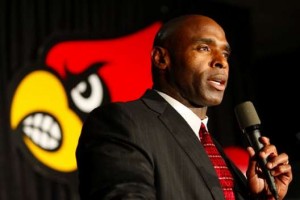 The state of Kentucky has never been a college football hotbed as evidenced by the desultory record of its flagship school, the SEC's University of Kentucky. The Bluegrass State's best prep stars probably prefer to go to football-first schools like Tennessee, Alabama or Georgia. But this does present an opportunity for Louisville to become more of the state's football school, despite its own hoops heritage. Louisville just completed upgrades to its facilities, including an expansion of PapaJohns Cardinals stadium, so it's showing it has the resources to play the college sports arms race.
Cincinnati is hoping to continue its run with Butch Jones after the departures of successful head coaches Mark Dantonio and Brian Kelly. So far, not good for as the Bearcats are 1-2. I'm not trying to write off Butch Jones just yet but the school's task to become program-first is a tall order.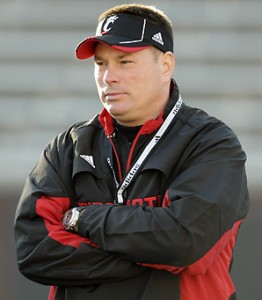 I have my doubts about whether Cincinnati can become that school. It's a commuter school, with one of the smallest budgets in the BCS. It plays in a 35,097-capacity stadium which it struggled to sell-out even last year and despite the most successful seasons in school history, it has struggled to raise enough money for facilities' upgrades as well as an expansion for Nippert Stadium. It faces the same struggles as any other city school to attract fans who have grown up as NFL/Pro-sports fans first. Until last year, Cincinnati had never even been in the discussion for a national title, much less having won multiple championships like the behemoth in whose shadow it lives, The Ohio State University. I used to believe that with the talent that comes out of Ohio, it could afford to field two high-profile college programs. I still believe that but I have my doubts as to whether Cincinnati can overcome its structural deficiencies to join the Buckeyes or even the likes of Pitt and West Virginia in the college football consciousness on more than a 3-4 year basis.
Photo Credits: Unknown, Brett Hansbauer/UC Sports Communications