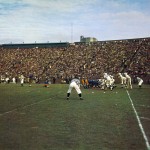 A quick relatively unformed thought:
The idea of East Coast Bias is so full of shizzles that it befuddles me.
Pitt once had a team, go 9-1, ranked #3 in the country that wasn't invited to a bowl game.
Pennstate once went 2 1/2 years without a loss. And did not win a national title.
(Incidentally, there's a hint of irony to the fact that Joe Paterno compiled three undefeated seasons but it was a 1-loss team that was his first "National Title").