One of my main interests in college football is watching the rise and fall of programs that don't belong to the normal big dawgs' club. Occasionally one of the top tier programs will fall on hard times but you can't keep a Texas or an Oklahoma or a PennState or a Southern Cal down for too long. You can see the downturn today at Notre Dame and Michigan but don't count those programs out for long. (If you're short-sighted enough to point out that ND hasn't been factor since the early 90's, please keep in mind that college football has been played for over a hundred years. A decade is a blip on the radar).
The pursuit of consistent excellence at schools below the high historical threshold is a fascinatingly excruciating exercise. What combination of coaching, recruiting, facilities and plain old luck would it take to engender year-in, year-out contention. Can these schools really dare to dream of being consistent top-10 programs.
The big dawgs have institutional advantages that continually pull down their lesser cousins. Michigan steals Rich Rodriguez from West Virginia, his own alma mater. Alabama lures Nick Saban from the pro's after a short trip thru the wilderness of coaching mediocrity. Once upon a time, Johnny Majors left Pitt after winning a National Title in order to go home to Tennessee.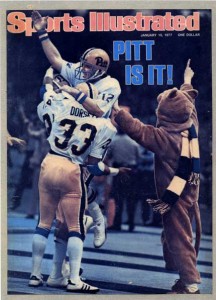 Other times, it is the lure of extended history that lays waste to a school's attempts to climb up the ladder. On signing day 2003, Pitt lost the jewels of a top-25 class when its top QB recruit de-committed to sign with Pennstate and its top RB recruit de-committed to sign with Miami instead. That neither player lived up to his reputation is not the point. The recruiting losses so gravely affected Walt Harris' faith in his own program that his agent publicly downplayed Pitt's  absolute ability to ever rise to the top. One year later, Harris was pushed out after leading Pitt to the Fiesta Bowl.
You can almost hear the nervous chattering at Cincinnati, a school with less history than Pitt or Cal or Wisconsin. Here you have a program newly arrived on the big stage with a dynamic young coach, Brian Kelly, who could very well give Ohio recruits a second legitimate in-state destination. But like Mark Dantonio before him, most pundits feel it's only a matter of time before Kelly jumps to a "big" program, leaving the Bearcats to hope they can strike gold with a third coaching hire. Yeah sure. Tell that to Louisville which weathered the departure of John L. Smith by hiring Bobby Petrino but have so far failed with Petrino's replacement, Steve Kragthorpe.
Sometimes, geographical disadvantages contribute to a program's uneven performance. Clemson and South Carolina come to mind. Both have had or presently have fine coaches. Neither have really sniffed extended 1st-tier success. The biggest and best of the Palmetto State probably aren't numerous enough to construct a powerhouse program given that two large programs exist in the state and many of the top prep stars may long to play at Rocky Top or Between the Hedges instead of Death Valley or Williams-Bryce stadium. Is it too much of a coincidence to note that Cal's rise and Oregon's steady success has coincided with Washington's fall from grace?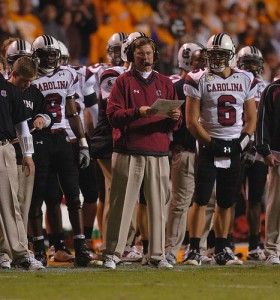 The upshot of all these considerations is not to excuse Pitt or Louisville or South Carolina from failing to consistently reach the big time. In the end, these programs have only themselves to blame. If a shizzle hole like Norman, OK can become a destination for the best prep stars, the Steel City or even Corvallis shouldn't be too far behind.
Photo Credit: Sports Illustrated