The University of Michigan must fire Rich Rodriguez. NOW!
According to ESPN:
In its notice of allegations — which Michigan received Monday — the NCAA said Rodriguez "failed to promote an atmosphere of compliance within the football program" and tracked neither what his staff was doing nor whether his players were following NCAA rules. It also said the athletics department failed to make sure its football program was complying with NCAA regulations.
The Detroit Free Press is reporting that these are five major NCAA violations.
This isn't just a case of an idiot assistant calling a player during a dead period. The NCAA might not have said it but I will – INSTITUTIONAL LACK OF CONTROL.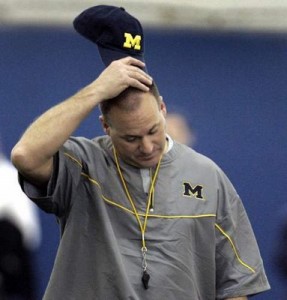 I don't hate or love Michigan football. I admire the program largely because it's taken good care of the occasional Western PA kid who has matriculated to Ann Arbor – Ty Law, Marlin Jackson and Steve Breaston come to mind – and because I hate Ohio State. But I also realize those guys played for Lloyd Carr, a true Michigan man.
Michigan tries to set itself up as a program of great integrity and character. A program that engenders great loyalty in its players. A program that tries to do right (though no program is perfect anymore, if ever). It's an admirable goal whether you cheer for them or not.
I've been screaming for 2 years now that Rich Rodriguez, whether he would win or not, is not a Michigan Man. For all his real coaching talent, he is slime. He was slime at WVU (in contrast to Bill Stewart who seems to be a genuinely good man). He's slime now.
Ultimately, a combination of not winning enough and NCAA violations will be his undoing. And deservedly so. He's 8-16 in two years and the bar has been re-set so low that an 8-win season might be considered a success for the Wolverines. That is unacceptable. College football is better off when a program like Michigan is strong.
Go after Charlie Strong or Jim Harbaugh, Randy Edsall or Turner Gill. Get a man who can at least be mistaken for having a soul (unlike a guy such as Bobby Petrino) and get back to being the Victors of the West. And fraking beat Ohio State!!