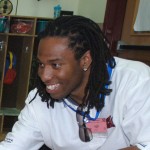 Cardiac Hill reports that former Pitt and current Arizona Cardinals wide receiver Larry Fitzgerald may part ways with the franchise this off season due to an enormous $23.6 million salary cap hit scheduled for the 2015 season.
In the current structure of the NFL with contracts not guaranteed, it's really hard to believe that Fitzgerald (or any player with a big-time contract, for that matter) doesn't think about the possibility of being let go.

The wide receiver is on pace to earn an incredible $23.6 million next year, to count approximately 17% against the entire team's salary cap. For a player that's on the decline, that's a recipe for being cut. Interestingly enough, Pro Football Talk says that while he might be traded or restructure his deal (again – he did so this year), he won't be released.
Fitzgerald has been with the Cardinals for 11 years. During that time span, the Cardinals have made the playoffs 3 times. They have finished the season with an above-0.500 record only 4 times. Not only that but Fitzgerald has played with the following quarterbacks not named Kurt Warner: John Navarre, Josh McCown, Shaun King, Tim Rattay, Matt Leinart, Derek Anderson, John Skelton, Max Hall, Richard Bartel, Kevin Kolb, Ryan Lindley, Brian Hoyer, Logan Thomas, Carson Palmer, and Drew Stanton. Of those not named Warner, I would say that only Palmer has been a serviceable quarterback.
From Fox Sports:
Beyond that, Fitzgerald, 31, is not happy with his role on the team, the source said. He doesn't like playing in the slot and he's become far less of a focal point of the offense. While Fitzgerald led the team this season with 63 receptions and was second to Michael Floyd in yardage at 784, those numbers are the lowest since his rookie year, and his two touchdowns are a career low.
Although Fitzgerald has no doubt slowed down through 11 years of the NFL grind, the idea that he still can't be a very good wide receiver is, I think, far-fetched. Floyd's much bally-hooed emergence and his team-leading 784 yards would rank second worst over Fitzgerald's entire career and as listed above, Larry has played with much worse quarterbacks. I might even surmise that his college QB at Pitt, Rod Rutherford, did him better service than any other than Warner.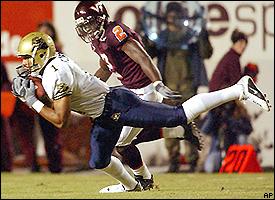 Take for example, 2012, one of Fitzgerald's worst non-Warner years. He caught 71 passes for 798 yards and 4 touchdowns. According to Bleacher Report:
Fitzgerald was targeted 153 times [in 2012], with two of those targets negated by accepted penalties. On those targets he caught 73 passes, 71 officially, for a catch rate of 47 percent.

Of Fitzgerald's 153 targets, almost unfathomably, only 88 were catchable. When you assess Fitzgerald's receptions in relation to his catchable targets opposed to all of his targets, his ratio almost doubles [to 80 percent].