I've sat through 2-9 records. I've been disappointed by 9-4 records.
… watched 13-9, jumping up and down, hooting and hollering throughout that agonizing and ultimately triumphant fourth quarter against West Virginia.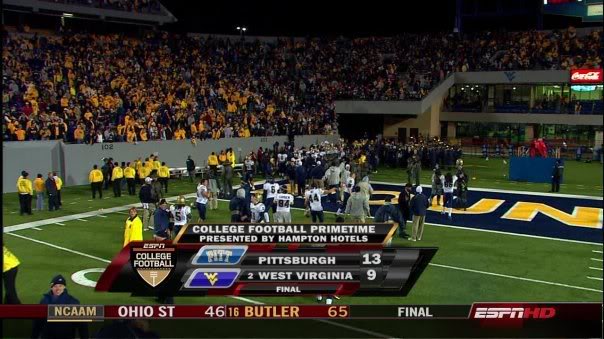 … was present when Rod Rutherford scampered 62 yards to score the lone touchdown as Pitt beat Pennstate, 12-0, at Three Rivers Stadium in 2000.
… started the "asshole" chant at Joe Paterno in 2000 at Three Rivers Stadium.
… bore witness when Larry caught that touchdown pass. And that one. And that one. And that one. And that one.
… will never forgive Oklahoma's Jason White for denying Larry Fitzgerald the Heisman Trophy.
… saw Tyler Palko lay the wood on that BC player and Darrelle Revis' ESPY-winning kickoff return for a touchdown.
… was so fucking proud when Pitt beat Notre Dame in five overtimes at ND Stadium.
… think Walt Harris made the right decision to start Palko over Joe Flacco.
… watched helplessly as Cincinnati came back in the fourth quarter to deny Pitt a BCS bowl berth.
… stood in the home student section at Beaver Stadium, too afraid for my life to say a word, watching Pitt fight and scratch and claw against Pennstate, only to lose 20-17 when LeVar blocked a last gasp field goal attempt.
… remember the "slide" against UConn.
… shook Dave Wannstedt's hand after watching him give a talk to alumni after he was hired at Pitt.
… tried putting on a brave face when Mike Haywood was hired. (I couldn't even convince myself though).
… was subjected to the Swinging Gate.
… wish Walt's experiment with the Spread Offense, years before it became en vogue, had succeeded.
… refreshed ESPN Gamecast over and over and over again sitting on a connection in Bangladesh, 'watching' Pitt win the Tangerine Bowl vs NC State.
… sat through that entire bullshit meltdown in the rain against Youngstown State last season.
… saw Chryst rally the program to thump Virginia Tech after starting out 0-2.
… have said a couple nice words about Tino Sunseri and even Bill Stull before him.
… DITKA, Dorsett, Marino, Curtis Martin, Russ Grimm, Chris Doleman, Rickey Jackson, Joe Schmidt. Beat that. Only three other schools can. Ruben Brown, Larry Fitzgerald, Darrelle Revis. We're coming for the last three.
… have been a Pitt football season ticket holder in all but one year since 1998.
… refuse to give up hope.
HAIL TO PITT.