My first reaction yesterday when Lebron James finally chose to leave Cleveland was sadistic happiness. Yes, I'm a Pittsburgher through and through and we.hate.Cleveland. On reflection though, I can't really say that my joy will remain unbridled.
Lebron James spurned his hometown in quite possibly the most egregiously narcissistic fashion ever concocted. A nationally televised one-hour ESPN show during which he chose, with no hint of remorse or regret, to leave the Cavs. It's one thing to leave. It's quite another to make a show, to make a spectacle out of it. To rub it in the faces (and sports souls) of those who came to love how you represented their team. And more broadly, their region.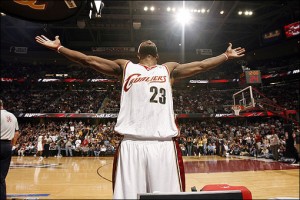 We're so used to people acting in their self-interests these days that we've forgotten to consider the manner in which they should pursue said interests. Should. We've removed that word – "should" – from our public discourse. Well, Lebron James' right to leave isn't at issue. He gave the Cavs among the best seven years in the franchise's history.
But he should not have left them in that way. He should not have strung them along for so long. He should have considered the impact of his decision on his (now former) fans and their reaction and their grief and their heart-break. It's ok that he left and while he didn't trash talk the city or anything like that, he could have, should have let them down more tactfully, more gently, more humanely. It's called civility. And it doesn't start with a damn ESPN special.
As much as I have proven over the years that I hate Cleveland, I won't be rooting for Lebron James in Miami. He might even cause me to root for the Cavs if they played the Heat in a playoff series. And that is reason enough for me to begin to dislike Lebron James. He's done the impossible for this Pittsburger – he's made a Cleveland sports team look sympathetic?! (I think I just threw up in my mouf).